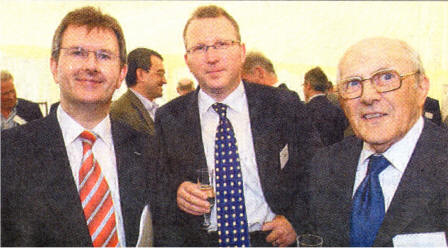 Lagan Valley MP MLA Jeffrey Donaldson pictured with Ricard Acheson and Charles Carvill of the Carvill Group at Woodbrook ECO Village on Friday. US2308-109A0
A UNIQUE eco-village, the first of its kind in Ireland, was officially opened in Lisburn last week. Woodbrook, an eco-housing development in Brokerstown Village developed by the Carvill Group, offers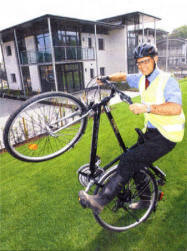 Wheels in motion: Christopher Carvill Managing Director of the Caryl!! Group gets on his bike to launch Woodbrook in Lisburn. This latest £160m concept for the pioneering developers is the province's first eco-village and all of the energy efficient homes, which start from £99,950 come complete with a free bicycle and bus pass
home owners an environmentally-friendly alternative to the modern home.
The innovative homes, which feature the latest high-tech energy-conserving features, will be heated by special wood chips
which fuel the biomass heating system, making them the most cost effective new homes to run in the province.
Lagan Valley MP Jeffrey Donaldson officially opened Woodbrook and was impressed by what he saw.
Mr Donaldson congratulated Christopher Carvill and the Carvill Group on 'this excellent development, which is a first on the island of Ireland and is unique in Northern Ireland'
"It is very environmentally friendly and ensures the site, which is right on the edge of Lisburn, is developed in a way which is sensitive to the surroundings. I had the opportunity to view the properties which are very attractive and I have no doubt they will be extremely popular," continued Mr Donaldson.
Costing over £160m to develop and providing over 1000 homes, the development is part of a larger Brokerstown village.
Christopher Carvill, MD of The Carvill Group, said interest in the homes has already been exceptionally high even in the current climate.
"We have been delighted with the response to our Eco-homes and the fact that the properties have been selling so quickly in the current market we feel is testament to the fact that we are offering something different at affordable prices," he said.
"Woodbrook is without a doubt one of our most innovative developments to date," he added.
' Our homes can make a real lifestyle difference to the buyers and their futures."