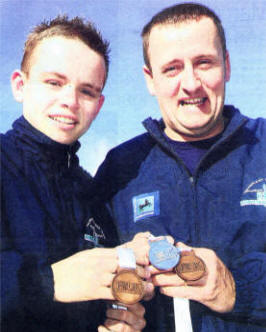 THREE years ago Conor Patton was having a life saving kidney transplant at the Royal Hospital for sick Children in Belfast.
Now, the 16-year-old from Trumery Drive in Crumlin, is set to be the only teenager representing the United Kingdom at international level in the World Transplant Games in Australia's Gold coast next August.
Conor will be competing against the best in the world in 100 metre sprint, relay, obstacle, badminton and long jump.
The Crumlin schoolboy returned from the British Transplant Games in Sheffield this year with a silver and two bronze medals in obstacle, sprint and badminton. He has also competed in the Transplant Games in Bath in 2006, Edinburgh in 2007 and due to his success can now compete at international level.
The sporting sensation is a far cry from the youngster who suffered kidney failure in October 2002. He spent four days in intensive care at the Royal and a further five weeks in hospital before he was allowed home and placed on dialysis for two years.
He was put on the Transplant list waiting for a donor but meanwhile his parents Catherine and John were tested and his father was deemed suitable to be a donor.
In February 23, 2005 Conor received a kidney donated by his father.
His mother Catherine said: "Transplant Games are held to promote and to raise awareness of the need to increase organ donation.
"Conor loves football and played even when he wasn't well. He couldn't play for more than 20 minutes - but he always loved sport.
We remember what it was like when Conor was so ill that he could not play, so it's a big achievement for him to go to the World Games and obviously we are very proud of him."
For over 20 years the World Transplant Games Federation has been staging international sporting events for transplant athletes in order to demonstrate the physical success of transplant surgery.
To help finance the trip for Conor, his father John has been writing to local businesses and holding fundraising events.
On Friday November 14 there will be a junior disco for primary school children at Crumlin United Football Club from 7-8.30pm and then one for U18's from 8.30pm to 11pm at the same venue.
On the same date Conor Armstrong Live Band will be playing live at the Fiddlers Inn from 9pm to lam.