JLS MEMBER ASTON REVEALS FAMILY LINKS WITH AREA
by STACEY HEANEY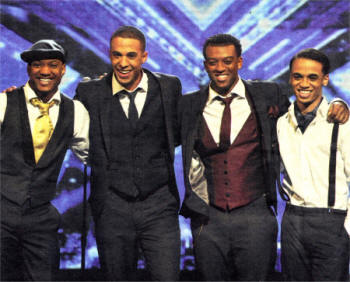 WATCHING The X Factor on a Saturday evening you could be forgiven for thinking that Northern Ireland's only link to the show is teenager Eoghan Quigg. However, there are some Dunmurry residents who making sure they cast their vote each week for Louis Walsh's boy band, JLS, as one member of the group, Aston Merrygold, has family living in the area.
20-year-old Aston's mother Siobhan and her family hail from Dunmurry and Aston, who has relatives still living here, is hoping people in the Lisburn area will get behind the soulful foursome and propel them to pop glory.
Taking a break from rehearsals for this week's show Aston revealed, "My mum's whole side of the family are from Dunmurry. My uncle Jackie still lives in Dunmurry and I have cousins living there."
Although Siobhan left the area as an eight-year-old the family remain strongly connected to Northern Ireland: "My nanny and grandad go over as often as possible," Aston said.
Speaking about his group's experience on The X Factor, Aston said, "It's amazing; a once in a lifetime experience." JLS - Marvin Humes, 23, Jonathan Gill (JB), 21, Ortise Williams, 21 and Aston - sailed through the auditions and boot camp and have become one of the favourites on the hit show.
Yet the group, who were formed just over a year ago, only made a last minute decision to audition for The X Factor.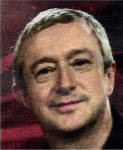 "It was literally two weeks beforehand that we decided to go. We were like 'should we do it?' and then we said 'let's just do it'" Aston said.
"I was used to the whole audition process but it was really, really surreal auditioning for The X Factor. You've got people saying 'stand on the X' and you're thinking, 'this is real, this is gonna happen, it's crazy really."
Performing live on the show each week is something the band loves, and so far they have performed songs by musical idols Boyz II Men and Michael Jackson, as well as Dean Martin during last week's 'Big Band' theme.
"There are over 12 million people watching and the particular songs we've had are songs we love to sing" commented Aston. "You're putting on a show each week and putting your own spin on it. To get through each week is amazing and then on Sunday you start again for next week's show. It's really weird and tiring, but it's incredible." Aston's family have been there every step of the way supporting him and the band, and he hopes JLS can stay in the competition as long as possible so everyone who wants to go along can get to see him on the show.
"My family have been watching every week. My mum and aunty and cousin came down on Saturday and loved it, my mum has been there every week. It's a shame we only get a few tickets, different people want to go every week and you just hope you don't go out that week and let people down - you have to bring your 'A' game every week."
The band have been safely voted through by the public so far in the competition, avoiding the dreaded sing off between the bottom two acts. However, each week they have to rehearse what they would perform in the sing off - just in case. "You've got to practice your survival song, it is disheartening but you kind of have to do it, said Aston. There have been some incredible experiences for JLS since the show began and now the 12 finalists have released a cover of Mariah Carey's hit 'Hero' in aid of Help For Heroes, and the contestants look set to reach Number One in the charts on Sunday.
"It's mad," said Aston, "especially releasing this song because everyone knows it, it's a Mariah Carey classic, and with Cheryl and Girls Aloud being number one, if it goes to number one we'll be knocking them off, so it's almost like the students beating the teacher."
When asked if his family will be rushing to the shops to buy the single, Aston replied, "Oh yeah, I hope they are. I'll be giving them a stern phone call to remind them anyway!"
The boys are being mentored by Louis Walsh, the man behind Boyzone, Westlife and Shayne Ward.
"It's amazing working with Louis. No-one really sees what he is like but he's a great character, he's hilarious, he has us in stitches. There is a great vibe between us and a great work ethic, we're both partners" said Aston.
As well as his close family connections to the country, Aston is not unfamiliar with Northern Ireland, having taken on the role of Peter Pan in the Christmas Panto in the Grand Opera House in 2006.
"I keep saying to anyone that a night out I had in Belfast when I was doing the panto was the best night I've ever had. I hadn't been since I was really little but everyone was so friendly and all my friends came over, we all had a great time. We're all going to go back, hopefully at NewYear's if I can get it sorted out." Besides being a huge TV hit, The X Factor also has a concert tour of the country each year, with dates set for the Odyssey Arena next March and Aston is hoping JLS will be one of the acts picked to tour.
"I've been to concerts in some of the venues on the tour and to perform in them would be incredible," he said.
To be on the bill, I can't describe what that would be like. Seeing your face on posters and performing, obviously we want to go all the way on the show but aside from that then I just pray we are put on the tour."
The JLS boys have made a huge impact on the nation so far and have built up quite a following with social networking sites being made in their honour and fans eager to see the boys perform.
"It's amazing," commented Aston, "to think that people are spending their time making a bebo site for us and sending us gifts, it's incredible." This week X Factor fans will be in for a treat when the acts take on 'Disco Week' on the show. JLS have been busy preparing for their performance all week, and whilst he was unable to reveal the song they will perform, Aston promised the show would be special.
"The song's wicked. There's a really good vibe this week, the outfits are great, the performances are great and the songs are going to be incredible.
"We're happy with the song," he continued. It wasn't our first choice but we are happy with it now."
Encouraging everyone from the Lisburn area to vote for JLS, Aston said, "Pick up the phone and vote for JLS and hopefully we can show our thanks to everyone on the tour. We need everyone to vote for us, and not assume that we're safe, to keep us in the show."
You can see Aston and JLS in action live on The X Factor on ITV1 on Saturday night from 7.30pm-9.05pm with the results show from 9.50pm-10.35pm.