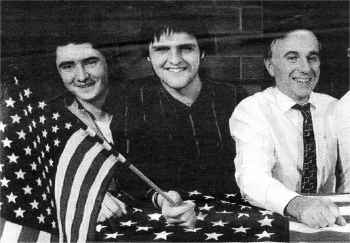 South Eastern Regional College higher education students Samuel Green and Chris Brown from Lisburn with Jim Hunter (College BEI Coordinator)
A LISBURN student is one of four from the South Eastern Regional College who has been selected to spend a year at an American university.
A successful application to the Business Education Initiative means Chris Brown will travel to the US to study business or management related subjects.
All his fees including tuition, travel, accommodation and meals are paid for and he'll certainly be spoiled for choice as over 100 US seats of learning are participating in the initiative. These are located as far apart as Florida and Alaska, Iowa and North Carolina.
The initiatives Co-ordinator at SERC Jim Hunter was delighted to hear of Chris's success along with that of his three fellow students.
"This is an opportunity of a lifetime for our students not only in continuing their education but in terms of personal development and life experience," he added.
"We have had a number students participate to date and all have found it a rewarding and worthwhile experience."