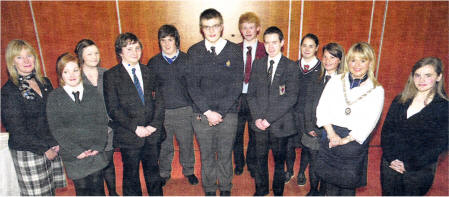 Ellen Hillen (organiser), with the Rotary Youth Leadership Development Competition winners Conal O'Hare, Peadareoin Ollamhna, and Jamie Pow from Wallace HS with Sandra McCabe (President of the Rotary Club of Lisburn). Also pictured are the 10 regional finalists. US4808-414PM-Rotary Pic by Paul Murphy
THE Rotary Club of Lisburn has played host to young people from across a large part of Ireland for the regional final of the annual Youth Leadership Development competition. It's the first time the final has been held in Lisburn for 17 years and the 10 young people were interviewed by a panel of experts on their knowledge of the European Union and their leadership skills during an intensive day at Dunmurry Golf Club before three won their way through to represent the area during a tip to the EU parliament.
Among the winners was Wallace HS pupil Jamie Pow.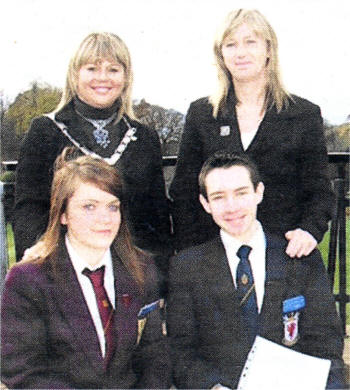 The Lisburn club finalists in the competition, Ellen McCalmont of Dunmurry HS and Jamie Pow of Wallace HS with the president of the Lisburn club Sandra McCabe and the chair of the Youth Committee Ellen Hillen