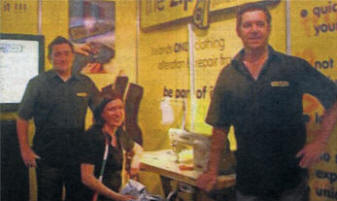 HILLSBOROUGH man, Bob Turner, one of the co-founders of the Zipyard, took part in the recent BT Small Business Franchise Show at King's Hall.
Like other contenders Zipyard are keen to grown their operation but what sets them apart is the fact that they are the only garment alteration franchise operation in Ireland.
Bob Turner identified a niche in an industry which has always been part of the fabric of our society, yet never managed as part of a consistent brand.
The business was mending clothes. Few people actually conform to typical high street sizes and in the days of financial restraint they are more likely to mend a garment rather than discard it.
Anyone wishing to hear more about Zip Yard Franchise opportunities should visit www.thezipyard.com