J&J Haslett to shut up shop in Derriaghy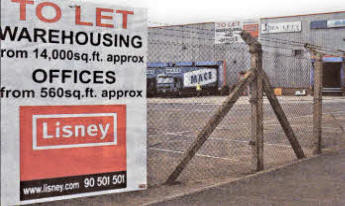 J&J HASLETT'S at Derriaghy will shut up shop at the end of the month, putting an end to the company's 26 year presence at The Cutts.
The food wholesaler has been operating their warehouse facility in Derriaghy since 1963. However, since the company was taken over by the Musgrave Group in 2007 there has been a gradual integration of the companies, with the long term plan of moving the warehouse facilities to Belfast.
Despite the company stating staff were informed of the move several months ago, some employees have said they were shocked by the speed of the closure and some have chosen to take redundancy, rather than transfer to the Musgrave Group site in Belfast's Harbour Estate. Explaining the background to the move a spokesperson for the Musgrave Group said: "Musgrave Group bought the J&J Haslett business in September 2007, and since that time has been gradually integrating the two businesses.
"In February this year Musgrave announced its intention to move the ambient grocery warehouse facility from Derriaghy to its site in Belfast Harbour Estate in September. The Derriaghy site will therefore close at the end of September.
"During all of the above integration proceedings, employees and union representatives have been kept fully informed and consulted with. The majority of employees have been given the option to move to Musgrave or Wincanton, Musgrave's logistics partner, and in the event that they choose not to, an ex-gratia severance payment is being made. Regrettably there will be a small number of compulsory redundancies.
"We recognise the very strong history and heritage associated with Mace in the Derriaghy area. Musgrave Retail Partners now supports over 320 SuperValu, Centra and Mace retailers and the merging of these two very similar businesses secures the future of Mace, its retailers and the majority of employees and puts the company on a sound footing to be a driving force in independent retailing in Northern Ireland."
iulieann.spence@ulsterstar.co.uk
Ulster Star
25/09/2009