Local ladies lose nine stone but gain £395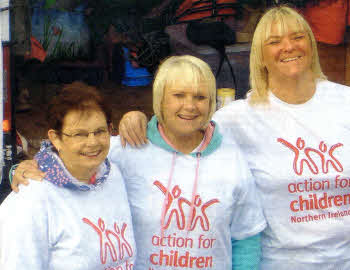 THREE adrenaline junkies who between them lost over nine stone through the Lighterlife programme took part in the Zipline Challenge across the River Lagan at the Odyssey in aid of Action for Children, that raised £2,350 for charity.
Shirley McManus, from Annahilt, lost over three and a half stone, while Sharon Symonds from Lisburn lost three stone as did Carryduff woman Ann Silvester and all took part in the Zipline Challenge raised £395.00 which will go towards Action for Children charity.
So enthused by the event Lisburn woman Sharon, who joined Lighterlife after her three year old son was born when she weighed 19 stone, now wants to do a bungee jump.
"It was just incredible feeling and now I would like to take part in something like bungee jumping. I don't know how I got involved in this but i am pleased that I completed it. I think I have turned into an adrenaline junkie now ," she said.
Jackie Adamson of Lighterlife based in Lisburn who herself sponsored the women £195 said that she was delighted with the ladies latest achievement.
"This is a fantastic achievement because before they lost weight they would not have partaken in any such event and I think it shows that losing weight is about more than just losing weight," she said. Anyone who would like to join Lighterlife can contact Jackie at 07886953846.
Ulster Star
09/10/2009