Alistair ready to battle 50 foot waves when the surf's up
LOCAL BIG WAVE SURFER WAITING FOR 'PERFECT WEATHER' to fly to USA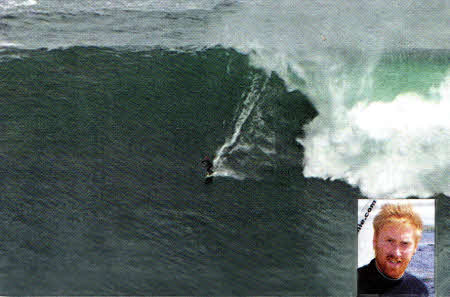 Annahilt man Alastair Mennie, inset, and pictured in action above, is preparing to take on some big waves in the USA
ANY time between now and the end of December Annahilt man Alastair Mennie will get a phone call and 48 hours later will have flown across the world and be rushing into a ferocious ocean with waves rising to over 50ft.
As one of the world's top surfers the former Friends' pupil is on standby to plough into the Pacific Ocean in Oregon USA in the Nelscott Reef Tow In Classic with his teammate Andrew Cotton. All they are waiting for is the waves to reach 50 feet high.
They are the only team from Europe invited to take part in the event and while it is the kind of danger most people would run from, it's the environment 28-year-old Alastair loves.
Having taken up the sport at the age of nine he has become one of the top surfers in the world and will be up against competitors from Hawaii, California, Australia and South Africa.
Alastair explained: "We had a home in Castlerock when I was nine and I developed my love of the ocean there. I was on a water- ski at six and surfing at nine. A love of the water had been in me as my dad Des used to go fishing on trawlers."
Alastair moved to the North Coast to attend the University of Ulster and while there decided surfing was what he wanted to do.
"When 1 was at University I was invited to the British Pro Tournament in England and realised I wasn't interested in contest surfing, it was the big waves that I was interested in," he said.
Whilst others might hide from the type of seas Alastair pits himself against, the local man loves the opportunity to test himself.
"We put ourselves out there when other people would turn away," he commented. "I have always been going out searching for the bigger waves. When I was 22 I went to California to a place called the Mavericks, which is one of the most dangerous places to surf. It has taken the lives of many of the top names in surfing, but I had to try it.
' I know what to expect. You face death nearly every time you are out there and you need to use your mind and body to overcome that."
Alastair's work also means he must constantly be ready to fly off to chase the next big waves. "You are hanging on the weather charts," he said. "You have to be prepared to travel at the drop of a hat."
Whilst talk of hurricanes leaves others battening down the hatches, Alastair watches for tropical storms forming in the Caribbean which will produce the sort of waves he relishes out at sea in the Atlantic. "We are on standby right now," he added, "It's strange because you may play football on a Saturday morning and that's it, but we need to be in form for the next three months, you have to make sure you are mentally and physically prepared."
Asked whether he is ever afraid to run into the ocean to face waves 50ft and higher, Alastair commented: "Yes, I think if you weren't scared you would probably be dead by now. Big waves are my passion, the largest wave I've ridden was 60ft, the biggest recorded swell in Irish waters, and I'd like to ride bigger, but that depends on Mother Nature."
Having surfed some of the world's toughest locations Alistair decided to look for waves in Ireland which world rival world- renowned spots.
"I realised there were big waves in this country so I bought a boat and found locations around the Irish coast," he added.
Last year, Alastair and his teammate Andrew Cotton finished 10th in the world at the World Tow In Surfing Championships in Chile. The invite-only contest picks just those who are the best at riding big waves whom organisers are sure will survive the experience.
Alastair explained: "There were 32 guys from around the world competing. We use a jet ski to get out to the waves so there are 16 teams, one surfing and one riding the jet ski."
Alastair, who is sponsored by an Australian company, is also hoping to find sponsorship from a Northern Irish company to put the sport in this country firmly on the map.
His daily routine is one of constantly preparing for the next call. He said: "I try and surf every day. I usually surf about 10 hours a week and I cross-train in the Gym and go swimming, the best training is in the sea."
Alastair's brother Andrew is also a surfer. Alastair added: "My dad, who passed away six years ago, told me when I said I wanted to go to California to surf Mavericks, "go for it son". My mum hates it, it freaks her out, but she understands I do train and if I wasn't prepared and fit I couldn't do it."
stacey.heaney@ulsterstar.co.uk
Ulster Star
23/10/2009