Anna Cheyne award winners are chosen
by JULIE ANN SPENCE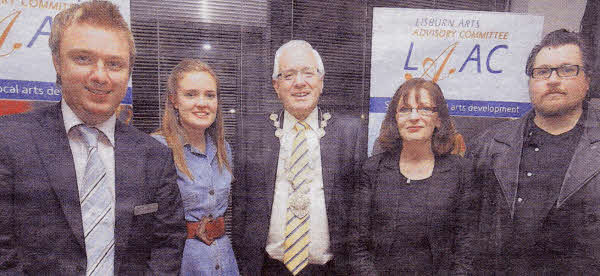 Catherine Keenan, Norma Doyle and Rik Peel, winners of the Anna Cheyne Visual Art braid with Lisburn Mayor Alan Ewart and Richard Yarr of the Lisburn Arts Advisory Committee. US4009-101A0
WORKS by a glass artist, a ceramacist and a painter have been announced as the winners in this year's Anna Cheyne Visual Art Award
The winning pieces - 'Eye Candy, Blue and Purple' by glass artist Catherine Keenan, 'Imagination, by ceramicist Norma Doyle, and 'Boxed In', a painting by Rik Peel - were revealed at a special awards ceremony last week the Island Arts Centre.
Winners were selected by a panel of judges which included the Mayor of Lisburn Councillor Allan Ewart, Councillor Betty Campbell, Richard Yarr and Stanley Bell of Lisburn Arts Advisory committee, Joanna Harvey from the Arts Council of Northern Ireland, and Belinda Swingler representing the Cheyne family.
Speaking at the ceremony, Lisburn Arts Advisory Committee Chairman, Richard Yarr, said: "This year over 70 artists submitted up to three pieces each. The standard has been excel- lent and we have received an incredible variety of work in terms of style and subject matter. It is great to see that Anna Cheyne's commitment to the arts can continue to inspire other artists and it is wonderful to see so many artists involved — both established and recent graduates."
Anna Cheyne RUA (1926-2002) was a resident of Lisburn and one of Northern Ireland's most respected artists. In 2003, Lisburn Arts Advisory Committee and Lisburn City Council, with the support of Anna's family, established the Anna Cheyne Visual Arts Award.
This bi-annual award acknowledges Anna's own commitment to supporting artists in their professional careers and enables the purchase of new artwork for a civic art collection housed at Island Arts Centre. The 2009 winners will shortly join winning entries from 2003, 2005, and 2007 in this permanent display.
An exhibition of work by the short listed 2009 entries continues at the Arts Centre until October 15. For further information log onto www.islandartscentre.com. Alternatively contact the Island Arts Centre on 9250 9509.
julieann.spence@ulsterstar.co.uk
Ulster Star
02/10/2009