Army chef's marathon 'wok' for charity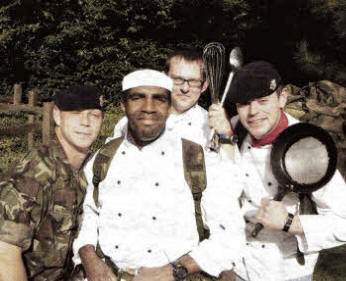 FOUR chefs from Thiepval Barracks in Lisburn will be swapping the pots and pans for hiking boots as they take on the sprawling countryside of the Antrim plateau during a 24-mile charity walk this Friday (September 25).
The men all from the Royal Logistics Corps hope to raise money for the Autism NI (PAPA) and British Limbless Ex-service Men's Association (BLESMA) .
The event organiser Corporal Adi West, whose three-year-old son Ewan is autistic, was inspired to by the plight of some of his colleagues that have sustained terrible injuries during operations in Afghanistan. Adi said: "My sister-in-law works at Hedley Court helping the guys with their rehabilitation. She was telling what great work that
BLESMA does in helping the guys rebuild their confidence so we just wanted to help." It will take around nine-hours for Adi and the rest of his team to complete the route which will take in Slemish Mountain and finish at Glenarm.
"We've been putting in some training to prepare ourselves for the hike", continued Adi. "So hopefully there won't be too many sore feet and the weather will hold out. Whatever happens we'll enjoy it and hopefully raise loads of money for these very worthwhile charities."
If you would like to contribute to either of the charities you make your donation via www.justgiving.com/LisburnCateringDepartmentBLESMA and www.justgiving.com/AdrianWestLisburnCAteringDepartmentPAPA-NI.
Ulster Star
25/09/2009