Story of Hillsborough's last blacksmith preserved in print
by JULIE ANN SPENCE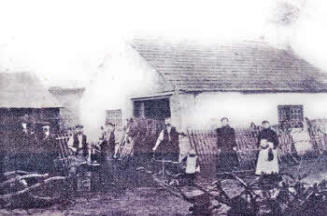 The Smithy at The Flush, Reilly's Trench - John Gordon and his first wife and family. Left to right: George Boreland, Eddie Maze, David Gordon, John M Gordon, John S Gordon, Isobella Gordon, Mrs Gordon with Agnes Gordon.
BLACKSMITHING is a dying trade but for one local man it was his entire life's work and passion. Now that passion has been retold for the first time in a new book published by history group Hillsborough Old Guard.
Billy Gordon learnt his trade at his father's knee and at the age of 15, when his father passed away, he took on the Blacksmith business with his brother Tommy.
The inseparable brothers worked together for almost 50 years and their business in Arthur Street in Hillsborough became the hub of the community, where everyone gathered to warm themselves by the fire and share the local gossip.
"I was about 15 and my brother was 17 when my father died," explained Billy. "We had to take up the business very young and it was unusual for two brothers to be in business together. We were inseparable though. He was my protector and wherever one went, the other went as well."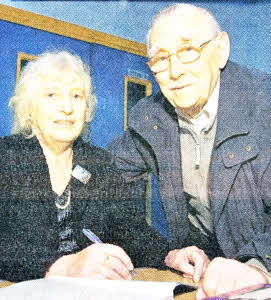 Historian Pearl Finn signs a copy of the new book, Beloved Of My Heart -Little Hillsborough Town, for Billy Gordon. US4909- 519cd
Being a blacksmith was hard, physical work and the hours were long but Billy loved what he did.
"Sometimes we worked all night," he recalls. "During 1941 when we had just entered the war there was a drive on for 'Dig for Victory' and a lot of machinery had to be made.
"For two and a half months we worked 18 hours a day, all but Sunday. Even years later we would often work through the night. If the work had to be done it had to be done."
As well as his work as a blacksmith, Billy was passionate about cycling. After his father bought him a second hand bicycle as a child he fell in love with cycling and eventually joined the Northern Cycle Club, cycling all over Ireland. In 1947 Billy took part in the Belfast to Dublin cycle race and was placed sixth.
The brothers turned their hobby into a business when they began producing feather-weight racing frames which were loved by competitive cyclists and during eight years of production they made some 700 cycle frame sets.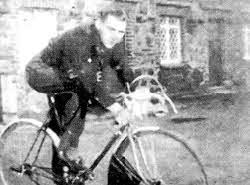 Billy on his bike.
The blacksmith business closed in Hillsborough in 1974, making Billy the last Blacksmith in Hillsborough. Although the work was hard and the days were long, Billy was passionate about the work and was skilled with his hands. Indeed, even after retiring, he didn't give up skilled work, deciding instead to go back to college to learn a new trade -carpentry. And his skills as a blacksmith obviously served him well as he developed a knack for the craft, even creating a beautiful grandfather clock and stunning rocking horse that every child would love to own. "I enjoyed it," added Billy. "I always loved to work with my hands."
Read more about Billy's story and that of the Gordon family in 'Beloved of my Heart: Little Hillsborough Town', which is available now from a number of outlets in Hillsborough, including Walkers Butchers, Wilsons Greengrocers, Raineys Chemist, Trio, Pattersons Chemist and the Hillsborough Tourist Information Office. It can also be purchased online at www.hillsborougholdguard.co.uk.
julieann.spence@ulsterstar.co.uk
Ulster Star
18/12/2009