Tributes paid to respected funeral director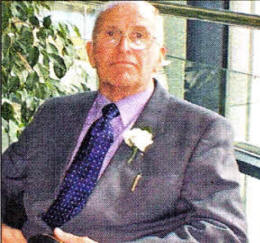 WARM tributes have been paid to Robert (Bobby) Elwood - a well respected Funeral Director from Dunmurry who has passed away following a long illness.
Speaking about his late father, who died peacefully at Lisburn Care Home on November 24, Brian Elwood said he was proud to be his son and had always looked up to him.
Bobby grew up in the Colin area and worked in the family's funeral business which became known as James Elwood and Sons, from a young age. At that time the firm also provided cars for weddings, funerals and even transported pregnant women to hospital to have their babies.
When his father passed away in 1986 the decision was taken to concentrate purely on the funeral side of the business and a funeral church was established at 139 Kingsway. In 1988 the successful business was acquired by Hodgens Holdings but Bobby stayed on to manage it and his young son Brian decided to follow in his father's and grandfather's footsteps and go into the business.
Over the years various companies took over the company and eventually with his health failing Bobby decided to take on a consultancy only role before retiring completely with the onset of Alzheimer's Disease. In 2005 Brian branched out and opened his own funeral company with business partner David Capper - something Bobby was dearly proud of and he was asked to help officially open the new premises.
Bobby was very much a family man and he was devoted to his wife Daly and children Mark, Esther, Brian and the late Rodger. He loved motorcycle racing especially the Isle of Man TT races and the Ulster Grand Prix. He also enjoyed going to the North West 200 and spending time in his caravan in Portrush. Brian said Bobby had a wicked sense of humour and he could always tell if any of his family were lying to him.
He also fondly remembers his father as being 'a terrible hoarder', always keeping things just in case they came in handy another time. A service of thanksgiving for Bobby's life was held in Dunmurry Presbyterian Church on Friday November 27 and his ashes will be buried beside his late son's in the garden of remembrance at St Colman's Parish Church.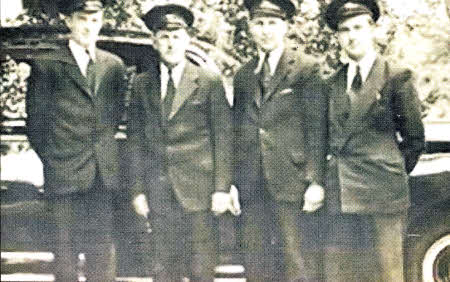 From Left to Right are Jim Elwood, James Elwood, Bobby Elwood and Albert Walter pictured around 1952.
Ulster Star
04/12/2009