Local ladies to raise funds for NICFC in charity cycle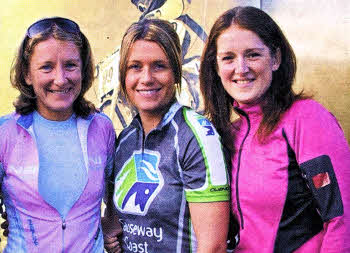 THREE local women will be helping to raise funds for the Northern Ireland Cancer Fund for Children (NICFC) tonight (Friday) when they take part in a charity cycle to raise funds for children and teenagers coping with cancer.
Andrea Harrower, her sister Cathy Thompson and Julie Watt, who are all members of Dromara Cycling Club, will join ex-Ireland international rugby player and Ulsterman Ronnie Carey who will lead a team of cyclists and rugby players - turned-cyclist - around Ulster towing a Charity Canoe, collecting donations for the NICFC.
The local girls will join fellow cyclists at Ravenhill on Friday night, where the canoe will be on display to collect money for the charity before cycling five hours of the route on Saturday morning.
Following their appearance at Ravenhill the team will hit the road, visiting all 62 Ulster RFC clubs in turn with the canoe in tow, returning to Ravenhill on December 7. Speaking about the event Andrea commented: "We are privileged to have been approached by the organisers to be involved in this fundraising event for an extremely worthwhile charity and are more than willing to put the time in for it."
If you see the team en route please cheer them on and don't forget: all donations are welcome. The heavier the canoe gets the more the team will have to struggle to tow it, however, as they say, the heavier, the better!
Follow the event on Twitter at www.twitter.com/moxyfilms or visit the Northern Ireland Cancer Fund for Children at www.nicfc.com.
Ulster Star
04/12/2009