Dancers step out to raise funds for Children in Need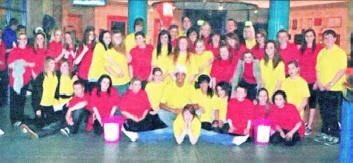 DANCE fever hit Lisburn last Friday night as 50 people took part in a special dance-a-thon to raise funds for Children in Need.
In a bid to emulate a certain mobile phone advertisement in a London train station, the locals performed their routine at Bow Street Mall, B&Q, Premier Inn and Lagan Valley LeisurePlex, raising over £500 with their slick moves.
It was organised by Lisburn man Gyasi Sheppy, a local dance teacher who runs classes in St. Patrick's Hall on Thursday nights.
He got his classes to join him in the feat, where they raised the impressive sumby performing the three and a half minute routine after having just one hour to practice.
Gyasi said: "It was a lot of hard work and preparation and we only had an hour's rehearsal, but everyone worked so hard and pulled together. It was a lot of fun; I loved it."
Speaking about how he came up with the idea, Gyasi commented: "It just hit me. This is the biggest thing I have ever organised but it really paid off."
The dance group, who were joined on the night by some plucky members of the public, performed their
routine to a mix of music prepared by Gyasi including Michael Jackson, The Jackson Five, The Time Warp and High School Musical. The dancers performed in T-Shirts provided by Primark, whilst Rathmore Grammar School provided the transport for the team.
The group were filmed by a television crew and their efforts will be featured on BBC1 tonight (Friday) during Children in Need.
Among those taking part in the var-
ied group were an eight-year-old and a 65-year-old, showing age had no barriers when it came to 'busting a move.
Asked whether he would organise something similar in the future Gyasi stated: In a heartbeat."
He added: "I would like to thank the management of each of the venues and everyone who took part - I look forward to seeing them again next year."
stacey.heaney@ulsterstar.co.uk
Ulster Star
20/11/2009