Chocks away! RAF Aldergrove prepares for closure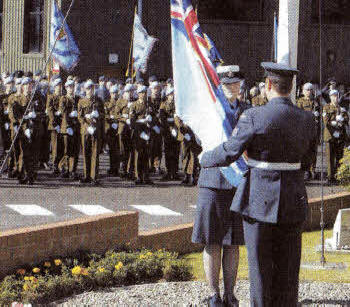 LAST weekend marked the end of an era at RAF Aldergrove as the Royal Air Force Ensign was lowered, marking the end of the RAF's 91 year history in Northern Ireland.
Back in April last year, Armed Forces Minister Bob Ainsworth announced that 230 Squadron currently stationed at RAF Aldergrove would relocate to RAF Benson in England by March 31, 2010.
Following 230 Squadron's departure, RAF Aldergrove will become Joint Helicopter Command Flying Station Aldergrove.
Several units will continue to be housed at Aldergrove as well as 5 Regiment Army Air Corps and the existing welfare facilities will remain for the families on the station.
I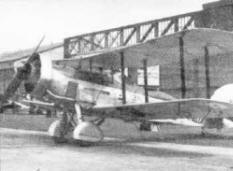 n 2010, 38 Engineer Regiment, currently based at Masserene Barracks in Antrim, will move to Aldergrove.
While the base is being retained in Ministry of Defence hands, the handover marks an end to a full-time RAF presence in Northern Ireland after more than 91 years in the Province.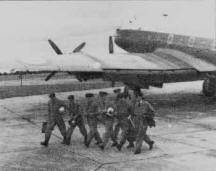 During that time the base played a key role in protecting Allied Atlantic convoys from German U-boats during the Second World War and, during the Troubles, provided support for the security forces closer to home.
Wing Commander Al Morrow said the official handover, which comes after the Battle of Britain commemoration on September 20, would be a sad day.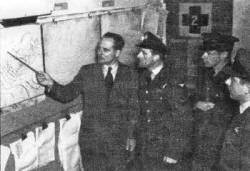 "Ultimately it's not just about the Troubles," he said. "The RAF and its presence here in Northern Ireland goes a long way before that and indeed pre-dates partition of the island of Ireland itself."
While the RAF will be departing from Aldergrove, Northern Ireland will maintain its classification as one of the 20 zones in the UK which the RAF can use for training pilots in preparation for combat operations.
As part of the station's transition ceremonies, the RAF Aldergrove Officers' Mess hosted a Battle of Britain dinner for approximately 120 people on September 19.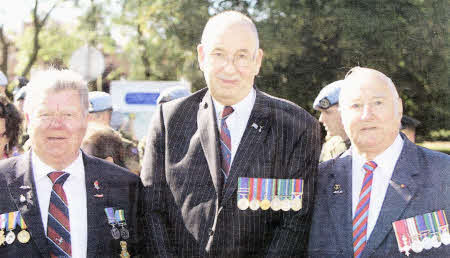 Veterans Robert White, Nigel Coulter and Phil Price, all from Lisburn at the RAF Battle Of Britain Service at Aldergrove.
Contribution
During the dinner, in addition to celebrating the RAF's contribution to the Battle of Britain, RAF Aldergrove looked back at the history of the Station and the Royal Air Force in Northern Ireland.
Then on September 20, RAF Aldergrove hosted a commemorative Battle of Britain Parade. All personnel on Aldergrove Station were involved in the event, along with approximately 250 veterans from the Royal Air Forces Association, the Aircrew Association and the Royal British Legion, and invited guests from the local area. The Battle of Britain Parade was be followed by a Service of Thanksgiving in one of the Station Hangars.
Ulster Star
25/09/2009