City Centre Post Office back in business after shock closure
by JULIE ANN SPENCE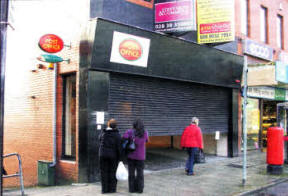 LISBURN'S city centre Post Office has re-opened following frantic negotiations after its shock closure last Friday morning.
However, Post Office Ltd have stressed this is only a temporary arrangement and that representatives are in negotiations to find a long term solution. Customers in Lisburn were left without a Post Office when the shutters were pulled down on the Market Square branch last Friday amid speculation the franchisees of the local branch had ceased operation. Post Office Ltd have since confirmed the owners have stopped operating the branches in Lisburn, Lurgan and Portadown.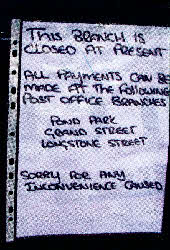 Local politicians and Post Office Ltd entered into urgent negotiations in the hope of reopening the branch on Saturday morning in a bid to minimise the impact on customers at the busiest time of the year.
A spokesperson for Post Office Ltd confirmed a temporary agent had reopened the Lisburn branch and that a long term solution was currently being sought.
"We have been having ongoing discussions with the franchisee who operates the business at Lisburn, Lurgan and Portadown town centre Post Office branches and can confirm that they are no longer providing post office services at these three branches," said the spokesperson.
"We have appointed a temporary agent to operate the branches from their existing locations while we continue to work towards a longer term solution. We apologise to our customers for the short period of closure that has occurred."
Lagan Valley MP Jeffrey Donaldson said it was totally unacceptable that a city like Lisburn should be without a main Post Office.
"It is essential Post Office Ltd make this a permanent arrangement and get back to ensuring there is adequate postal services available for the local community and that those services are not dependent on the fortunes of any particular business" he said. MLA Jonathan Craig, who has been working with Mr Donaldson to secure the future of the Lisburn branch, added: "I was contacted last Friday by concerned staff who turned up for work only to find the shop closed. I immediately contacted Royal Mail who appointed a temporary Post Master and took over the running of the business from Saturday."
Mr Craig said it was "vital" the branch was kept open, possibly in new premises, that the staff employed are retained and receive all payments they are entitled to.
julieann.spence@ulsterstar.co.uk
Ulster Star
18/12/2009