Paul and Lesley climb to top of Africa for charity
LOCALS MAKE IT TO SUMMIT OF KILIMANJARO FOR MACMILLAN CANCER SUPPORT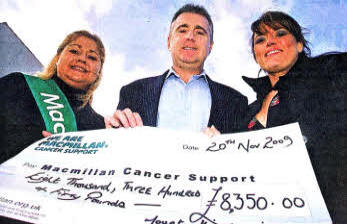 TWO local people have raised over £9,000 for Macmillan Cancer Support by climbing Mount Kilimanjaro, Africa's highest mountain.
Lesley Banks and Paul Meredith from Moira and Lisburn embarked on their Mount Kilimanjaro Expedition in Tanzania in September. The trek went up the mountain via the Rongai route which retains a sense of untouched wilderness.
Lesley and Paul commented: The experience was fantastic although the altitude sickness was hard to endure. We were joined on the adventure by eight other people from all parts of Ireland, it was all organised by Craig McCullough of Outdoor Concepts, a very professional outdoor pursuits company. We met many good friends on this journey which made the whole experience much more enjoyable.
"We would like to thank all the generous sponsors from Halo, Lesley's salon in Moira, Drumbo Park Dog Racing and all those kind people who donated through the gift aid sponsor scheme. We would also like to thank everyone who donated prizes and gifts for the charity fund raising evening at Drumbo Park Dog Races in July. We managed to raise £8,350. However with Gift Aid and sponsorship the total will be £9,000 plus.
"It was a real honour to present the cheque to Rosaleen from Macmillan Cancer Support who helped us with our fundraising, we would have been lost without all her help and support."
Rosaleen McAtamney Fundraising Manager for the charity said: "Lesley and Paul have been incredible and an absolute pleasure to work alongside. The money they have raised is outstanding and will make a big difference to the people living with cancer in their local area and in Northern Ireland.
"Around 30 people every day in the north of Ireland receive a cancer diagnosis. The money raised by them both will help Macmillan be a source of practical, medical, emotional and financial support to all those affected by cancer. Macmillan receives no government funding and so this service exists purely from public support."
Ulster Star
04/12/2009