If you're ever in Kenya watch out for a team that looks like Wesley FC

Kumpa Holy Mothers Primary School in the Wesley FC kit.
A PRIMARY school near Nairobi will be playing in the colours of local Lisburn club Wesley FC thanks to a trip organised by members of St. Paul's Church of Ireland.
Among those on the mission to Kajiado was Robbie Cowan from Wesley who also have already helped out Peak Raiders FC in Sierra Leone when Coach Gary Knott did a similar trip there and delivered a football kit on behalf of the club.
"When I first told Club Chairman Stephen Spence that I was going to Kenya as part of the St Paul's team, I had half an idea in mind to help a local football team - as well as work on the projects that Ronnie Briggs of CMS Ireland (CMSI) had organised with our Rector Jim Carson and his associate Stephen McWhirter," explained Robbie.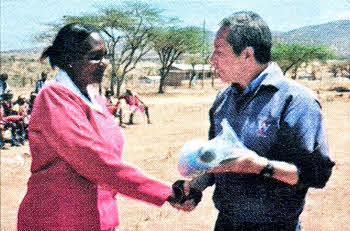 "Kumpa Holy Mothers Primary School was about a 40 minute drive from where we were based in Kajiado, south of Nairobi.
"The headmaster, Soloi Ole Nasoore, explained that some pupils were on the go from 4.00am because they had to walk 20 km — that's 12 miles — to get to school. No school bus, no transport, no roads, no footpaths, no street lights and no adults to accompany them. We had a tour of the school and the head then introduced us to all his staff including the games mistress, Mary Kanar. We saw around the class rooms which had been kitted out with new doors and windows and painted by a team of church volunteers from different Belfast churches earlier in the year," added Hobble.
"The football pitch itself showed the effects of the drought that is ravaging the country, there wasn't a blade of grass to be seen, but, as with football all around the globe, we all play to the same rules and have the same team spirit and comradeship. We had just finished looking at the school's vegetable garden which was used to supplement the children's diet, and walked round the gable wall of the last classroom — I couldn't believe it. The whole school had turned out for the presentation of a football kit. The school had organised the older children to put on a traditional Maasai dance, all the teachers were there, the local Maasai elders were in attendance and our equivalent of the deputy Lord Mayor was the guest of honour.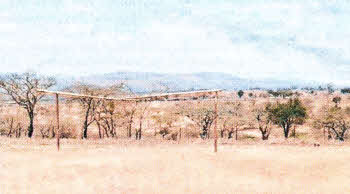 "As we sat and watched the children perform I couldn't help but wonder at the amount of time and effort that the school had put into organising such a welcome. When I asked Daniel Tama about it he simply explained that because we had taken the time to visit the school and bring a gift, the school was showing us the respect and thanks that it would afford to any visitor who would set time aside for them.
"That something as simple as a football kit could bring so much happiness to those kids made our party feel very humble and there was a long period of silence as we drove back to Kajiado with Daniel. When we met up with other members of the St Paul's team I'm sure they must have got fed up with us expressing how unbelievable the event had been.
We know what it's like to get a match called off here due to rain — it's frustrating, a Saturday ruined, the truth is they would love some of our rain in Kenya. It's three years since they have had proper rain. I have seen cattle, zebra, wildebeest all lying dead at the roadside due to lack of food and water caused by drought. Amboseli National Park is littered with carcasses; vultures have never had it so good.
"The Maasai people are predominantly cattle herders, they have searched far and wide for grazing for their cattle but there is nothing left. I have seen them bringing their huge herds of cattle home to die. Some of the Wesley players are members of St. Paul's so they know all about the church's prayers for rain in Kenya; put simply, you don't have to be a member of St. Paul's to pray for rain."
Ulster Star
13/11/2009