Conor brings home golden hat trick and a message of hope
TREBLE TOP AND WORLD RECORD AT TRANSPLANT GAMES
by MARY MAGEE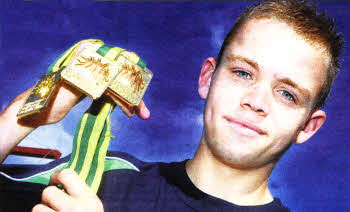 Conor Patton who won 3 gold medals in athletics at the world transplant games in Australia. US3809-109AO Picture By: Aidan O'Reilly
AS if winning three gold medals wasn't enough, a Crumlin teenager has set a world age group record in a sizzling display at the World Transplant Games in Australia.
16-year-old Conor Patton from Tromery Drive, who had a life saving kidney transplant just four years ago, won his golden hat trick on the Gold Coast just weeks after capturing four top spots at the British Transplant Games in Coventry.
He won the 100m, 200m and long jump the 17th World Transplant World Games, setting a new world record in his age group for the 100 metres of 12.4 seconds - beating the existing mark by .2 second.
Conor, who had been training for months for his first World Games with the Antrim Athletic Club at the Antrim Forum, was amazed by his success.
"There was a lot of competition and I was competing against some of the best," he said. "So I wasn't that hopeful of getting a medal." Conor had kidney failure at the age of ten and his father John, who accompanied him to Australia, donated his kidney four and a half years ago. He underwent the operation at the Royal Hospital for Sick Children.
Conor, who is now serving his apprenticeship as a joiner, has always been a keen sportsperson. During his treatment - he was on dialysis for over two years - he longed to play sports but was unable to do so. Now he plays football for Crumlin United and has also been with Crewe United and Chimney Corner.
After his recent success Conor is hopeful he can successfully compete in the next World Games in Sweden in 2012 as well as the British Games in Bath, next year.
"I have always really been into sports," he said. When I was undergoing treatment there were times I just didn't have the strength or energy to play, even though I wanted to. I was grateful when I got my operation and could do all the sports that I love. "If anyone is going through treatment at the moment - just keep your head up. You never think that your time will come but it does. Don't give up."
The World Transplant Games are held to prove that organ and tissue donation works and allows recipients to return to a productive and fulfilling life. This year it attracted 2,000 participants from approximately 50 countries.
The Games embrace all ages, from four to 85 years, and all are welcome to participate provided they have received a life-saving organ transplant at least one year before the Games take place.
Ulster Star
18/09/2009