Former Mayor calls for halt to council reform plan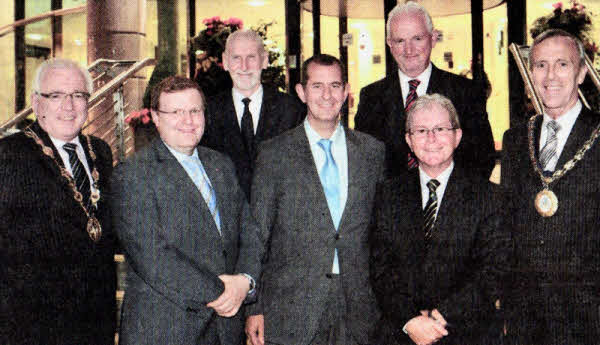 Welcoming Environment Minister, Edwin Poots (centre) to the Castlereagh/Lisburn Transition Committee are back row (I-r) Chief Executive of Lisburn City Council (LCC), Mr Norman Davidson; Acting Chief Executive of Castlereagh Borough Council (CBC), Mr Edward Patterson; front row (l-r) Mayor of LCC, Councillor Allan Ewart, Chairman of the Lisburn-Castlereagh Transition Committee, Councillor Jonathan Craig, MLA; Vice Chairman, Councillor Brian Hanvey and Mayor of CBC, Councillor Lawrence Walker.

A FORMER Mayor of Lisburn has called on the Stormont Executive to reconsider plans to reduce the number of councils in Northern Ireland amid concerns over how the changes will be paid for.
Environment Minister Edwin Poots said this week he was "absolutely committed" to delivering the local government reform in 2011, but Cllr Ronnie Crawford said the figures don't stack up and that more time is needed to consider the proposed changes. He said it is still not clear who is going to pay the estimated extra £118m which the changes will cost over a five-year period.
"One of the options is to have an election next year and keep the councils as they are for another four years," said Mr Crawford. "While I would be delighted to see the whole thing scrapped altogether, I think there at least needs to be further consideration. If an election was held next year and councils remained as they are more thought could be put into this. The people of Lisburn will be considerably worse off if the councils merge and will be facing a 20% rates increase. As far as Lisburn is concerned this is a very bad deal. In the present economic climate they don't have the money for this. I would like to see a change of heart." However Mr Poots, who is also a Lisburn councillor, has said the changes will bring "long term gains" and the reforms will happen by May 2011.
He said savings of £438m could be made over 25 years.
"This is a uniquely challenging process and I recognise that change on this scale does not happen overnight or without associated costs," said Mr Poots. "The economic appraisal clearly demonstrates that the long term gains quickly outweigh these implementation costs if we push ahead and embrace wholesale change.
"Local government reform is something that affects each and every citizen in Northern Ireland so these are not decisions that I, or anyone else involved in the process, are taking lightly. However I firmly believe that if we make the right decision on the design of our new local government, then reorganisation will provide significant benefits to the people of Northern Ireland."
Minister warned over problems facing new council
THE committee which is overseeing the creation of the new Lisburn/Castlereagh Council in 2011 has raised its concerns about the affects the planned boundaries will have on staffing, buildings and debt management with Environment Minister Edwin Poots.
The Transition Committee, representing both Lisburn and Castlereagh elected members, met Mr Poots, who is also a Lisburn councillor, to ask him to get clarification on how the issues are going to affect the new council. The chairman of the Committee, Councillor Jonathan Craig, said: "It is critical that the Minister listens to these questions and that meaningful answers are given.
"We cannot overemphasise how serious the situation that Lisburn and Castlereagh now face. Unlike any other proposed Council area in Northern Ireland, the new arrangements will see a three-way split with up to 40% of Lisburn and Castlereagh being lost to Belfast. "There have been no proposals brought forward on how to address such a radical cull and these are now desperately needed if we are to move ahead."
Mr Craig highlighted staffing, estate and building transfer and its associated debt management as issues that are 'significantly more complicated under the regime proposed for Lisburn and Castlereagh'. "How these issues are handled will have serious repercussions for the new Council area and I urge the Department to provide urgent clarification on the way forward," he said.
Ulster Star
23/10/2009