Former Mayor raises over £40,000 for Diabetes UK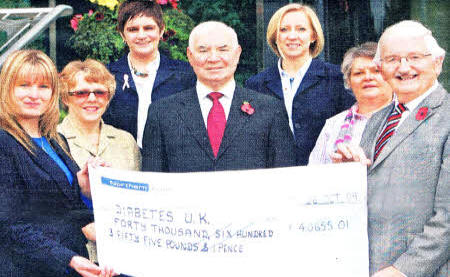 Former Mayor, Councillor Ronnie Crawford presents a cheque for £40,655.01 to Miss Jennifer McGivern of Diabetes UK. Also present at the cheque handover were (14): Mrs Jane Black, Mayor's Office, Lisburn City Council; Mrs Nicola Prentice, Clerical Officer, Lisburn City Council; Alderman Ivan Davis, Lisburn City Council; Mrs Cathy Adamson, Mayor's Secretary, Lisburn City Council and Mrs Jean Crawford.
OVER £40,000 was raised for Diabetes UK by the former Mayor of Lisburn, Councillor Ronnie Crawford during his mayoral term. Elected members, staff, residents, schools and community groups from across Lisburn joined together to support Diabetes UK, the largest organisation in the UK working with those with diabetes, funding research, campaigning and helping people live with the condition.
Mr Crawford said: "I would like to offer my sincerest thanks to all those individuals young and old from local communities and businesses in the Lisburn area who raised money for Diabetes UK during my Mayoral term.
"The voluntary support and generosity of the people of Lisburn continues to surprise and please me. I personally know individuals who have this disease and I was shocked to discover that ten new diabetics are diagnosed daily in Northern Ireland. To help raise funds my then office arranged various activities such as bag packing in local retail outlets and I also ran in the 3K Fun Run at the Lisburn Half Marathon."
He added: "I also took to the streets of Lisburn to collect money and raise awareness of the symptoms of diabetes. Should you experience increased thirst, weight loss, increased urination and extreme tiredness please contact your doctor to have your blood checked."
Jennifer McGivern, National Fundraising Manager for Diabetes UK Northern Ireland said: "We could not continue to fund research and campaign about the disease without the help of others.
"I would like to thank Councillor Crawford for the effort and determination he put in to raising funds for Diabetes UK and to all the Council staff who assisted him in organising the events, it is greatly appreciated. I would also like to take this to reiterate the thanks of Councillor Crawford to all those who supported his Mayoral Charity.
"Wonderful fundraising activities that took place in Lisburn such as the Lisburn Half Marathon and the Mayor's Civic Dinner helped to raise this significant amount."
Ulster Star
06/11/2009