Donna Louise on top of the world after climbing Ben Nevis
by MARY MAGEE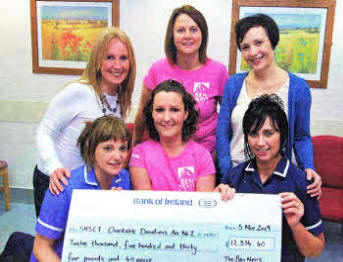 A FORMER Lisburn woman who beat breast cancer took up another challenge recently when she and ten of her friends climbed Ben Nevis to raise £12,345 to help fund a new state of the art specialist cancer outpatient facility at Craigavon Area Hospital.
Donna-Louise Waugh, formerly from the Pond Park area, was diagnosed with breast cancer at the age of just 36 during a routine check-up at Craigavon three years ago.
Donna-Louise, who now lives in Banbridge, went for an annual mammogram because of a family history of breast cancer. Three of her aunts and her mother had all been diganosed with the condition and she was strongly advised that from the age of 35 she should go for annual checks.
Her worst fear was realised when, on her second visit in 2006, the mammogram detected the mum-of-three had breast cancer.
Donna-Louise said: "If I had not been for the fact I went for these mammograms it might have been too late by the time it was discovered it and it could have been definitely a very different story then."
Following six courses of chemotherapy, five weeks of radiotherapy and the removal of her lymph nodes she was given the all clear. She now attends Craigavon every six months and because of the care and attention that she received during those troubled times Donna Louise had always wanted to do something special for the hospital.
So she and her ten friends, who are all keen walkers, decided to raise money for the hospital by climbing Ben Nevis. They went training to the Mourne Mountains twice a week, held coffee mornings, and a barbecue at the Banbridge Rugby Club in September which raised an
astonishing £4,500. As well as donations there were non uniform days at the St Mary's Primary School, Edenderry and Banbridge High School which her children - James (13), Anna (11) and Jack (9) - attend.
The ladies climbed Ben Nevis on September 18 and it was an emotional days for Donna Louise.
The last half an hour of the six and a half hour climb was the worst. "It was a long slog and the path seemed never ending," she said "We did it in 60mph winds and rain and it was just miserable. It was pretty emotional, too. It was not that hard that we had to stop but we did find it pretty tough.
"We were just so glad to get down and when we did we each had a glass of wine."
Donna Louise and her friends visited the Mandeville Unit, the specialist cancer outpatient facility at Craigavon Area Hospital, to present a cheque. The money will go towards purchasing a £60,000 digital mammogram machine which will detect the earliest signs of cancer.
" I am still getting people coming into the chemist giving money in," she said. "We actually thought that if all of us who did the climb each raised £300 that would be great so we never really believed that we would have raised this much.
"I would just like to thank everyone who helped in any way, who raised money or gave so generously. It did really mean to a lot to us."
Ulster Star
12/11/2009