Downshire Primary links up with Europe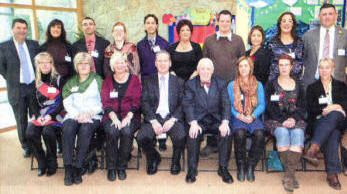 Visitors from Sweden, Spain and Belgium at Downshire Primary School taking part in a Comenius Visit. U54309-122A0 Picture By: Aidan O'Reilly
DOWNSHIRE Primary School in Hillsborough has linked up with schools in Belgium, Spain, Sweden and Turkey as part of an EU scheme to create partnerships across Europe and improve education standards.
The programme provides funding and professional development to enable students and teachers throughout Europe to work together and learn about each other's culture and education methods.
Teachers from Downshire will visit their partners and work on joint projects over the next two years through the Comenius programme, which is funded by the European Commission and managed in the UK by the British Council.
Mrs Barbara Lewers, Vice Principal at Downshire School said: "This project will provide opportunities for staff to travel and experience different cultures and systems within another country's educational setting along with our own children from all Key Stages to interact with pupils from our partner schools.
"The theme we have agreed ties in nicely with the setting up of our Eco Schools Programme and highlights the importance of looking after ourselves and our respective environments. It will also link in At ell with the two strands of PDMU within the Revised Curriculum with pupils gaining a greater awareness of the experiences, lives and cultures of people in the wider world. In addition to this, the benefits to Downshire include, valuable opportunities for developing focused approaches to problem solving, broadening teaching methods and experiencing professional development through hosting and visiting partner institutions."
Ulster Star
23/10/2009