Dr Helen receives MBE at the Palace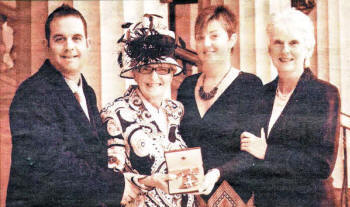 DR Helen Kirkpatrick recently attended an Investiture at Buckingham Palace where she received an MBE from the Princess Royal. Princess Anne chatted to Dr. Helen about her long medical service at the event on Friday December 4, and advised that a close link with your General Practitioner is part of preventative Medicine.
Dr. Helen was a GP in the Dromara /Anahilt area for 44 years prior to her retirement two and a half years ago.
She was accompanied at the Palace by her son Andrew Fullerton, her daughter Kay Magill and her sister Joan Sargent who now lives in California. Dr. Helen said it was a memorable day for the whole family.
"It was just wonderful. Everything was so well organised and everybody was very kind and nice; it was just a lovely day" she said.
Ulster Star
18/12/2009