Large turnout at reception to thank retiring principal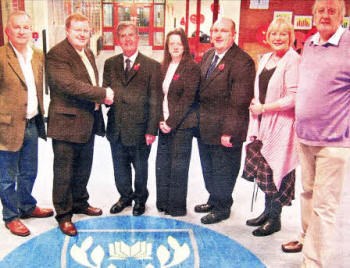 Dr Maurice Malcomson, Cllr Jonathan Craig MLA, Or William Leathem, Mrs Pamela Neill, Mrs Kaye Kilpatrick, Mr Richard McReynolds and Mr Michael McCully.
A RECEPTION has been held in Laurelhill Community College to express appreciation to the recently retired principal Dr Maurice Malcomson.
Members of the College's Board of Governors attended the event, along with teaching, secretarial and ancillary staff, to thank Dr Malcomson, who was Principal of Laurelhill for eight years.
A College spokesperson said: "Under his leadership the College developed and expanded the curriculum and range of educational opportunities on offer at Laurelhill. New courses and examination options introduced during his time as Principal have kept Laurelhill right at the front of educational provision for young people in the greater Lisburn area.
"Numerous improvements to the buildings and facilities for the students were made over the past eight years including numerous renovations to classrooms and the building and equipping of a new science laboratory.
"A new library and sixth form centre with many 'mod-cons' was a crowning highlight of the Malcomson years in Laurelhill's history."
In his remarks, Dr Malcomson complimented staff on the excellence of teaching and care at Laurelhill. He expressed sincere appreciation for the contribution made by everyone at the college, in whatever capacity.
Paying tribute to Dr Malcomson, Cuff Jonathan Craig (Chair of Governors) said that despite the difficulties of the role of Principal in the modern world, Dr Malcomson had always remained principled and dedicated to his work.
Cllr Craig expressed the appreciation of the Board of Governors for Dr Malcomson's scrupulous integrity and warm sense of humour.
Acting Principal Richard McReynolds led the staff tributes to Dr Malcomson, highlighting his stoicism, impeccable courtesy and human kindness. To loud applause, Mr McReynolds wished every health and happiness to Dr Malcomson who, he said, was truly a gentleman.
Ulster Star
06/11/2009