Hillside Inn crowned Food Pub of the Year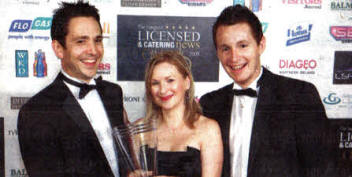 THE Hillside Inn in Hillsborough has been named at the Food Pub of the Year.
It claimed the top accolade in the inaugural Licensed & Catering News (LCN) Awards which were presented at a glittering gala dinner hosted by radio and television personality Gerry Kelly at the Ramada Hotel. The Hillside was amongst 52 finalists short-listed for 14 prestigious awards at the ceremony.
Each applicant was subjected to a rigorous judging process conducted by independent specialist company Spot Check, 'which was designed to test against best practice industry standards in their chosen categories. The judging process included visits from mystery guests/customers, written submissions and face-to-face interviews depending on the category.
Mystery guests and judges looked for establishments which could demonstrate their operational expertise, their clear focus on providing a great experience for their guests and their ability to create a standard of excellence.
Speaking at the awards Anthony Graham from The Hillside Inn said: "We were up against some unbelievably stiff competition but our team have put in so much hard work this year. It's a highly competitive market and we believe that offering customers quality, continuity and variety is important.
"It's unreal to have picked up this award; it's a real bone shivering feeling. We have worked all year for a feeling like this; it makes it all worth while,"
It was a good night for local hostelries at The Pheasant in Annahilt was runner up in the Restaurant of the Year category.
To cap a great night, LCN charity sponsor Ulster Cancer Foundation said they were absolutely delighted that a raffle conducted during the gala dinner raised a total of £3,447.
Ulster Star
16/10/2009