Friends' travel and tourism trip to Paris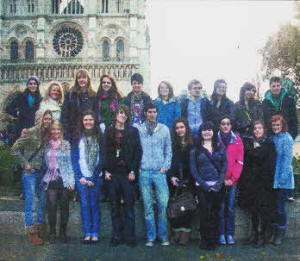 20 pupils from Friends' School recently returned from Paris on a four day trip organised by the A level Travel and Tourism Class.
As part of their coursework, Gemma Gibson, Kirsty Stretton and Sophie Pike had to organise, budget and market a trip to a different country - Paris was the destination they chose.
20 pupils showed a keen interest to attend and it was with great excitement they left for France to soak up the culture of the city of lights. The group headed on the train to Disney Land Paris. After experiencing Disney Park, as well as the Studios everyone headed for a bite to eat in the Disney Village.
The next day they visited the Musee D'Orsay for a cultural tour of the Impressionist movement in art, which was a highlight for the art pupils attending as well as visiting the Notre Dame. The rest of the day was spent shopping and after dinner the group headed to the Eiffel Tower for the lightshow and a chance to see Paris from the sky. The last day gave the pupils a chance to see many of the famous sights of Paris. These included the Louvre, the famous Champs Elysees; watching some street dancers along the way, as well as climbing the many steps of the Montmartre and visiting the Sacre Coeur.
With plenty of satisfied faces, many memories and photographs to show, everyone then made their way back to the hotel to collect their suitcases and begin their journey home. The travel and tourism girls were surprised with a present from the pupils and plenty of thanks for planning a great trip. The trip required a lot of work on their part; however it turned out a great success, with many pupils wishing they could have stayed for longer.
Ulster Star
04/12/2009