First glimpse of Glenavy incinerator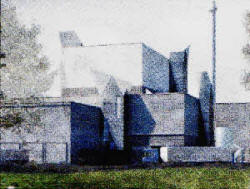 ROSE Energy has released an artist's impression of the multimillion pound incinerator planned for Glenavy and said the development could create over 300 jobs.
However, this is not expected to help ease the concerns of local residents who say the Glenavy countryside is the wrong place for this incinerator.
The company behind the development have said the construction of the £100 million biomass power station, which will use poultry litter as fuel to generate one third of Northern Ireland's target for despatchable green energy, will provide "a significant economic boost for the local area."
Mercury Engineering, which along with AE&E Austria will be responsible for managing and delivering the engineering, procurement, construction and commissioning of the entire Rose Energy project, is the largest employer of mechanical and electrical trade apprentices in Ireland.
"Having been involved in similar developments throughout Ireland, Mercury has proven that the local pay-back from a multimillion pound project of this nature can be enormous," said a spokesperson for the company.
Our tried and tested approach is based on a strong 'local sourcing' ethos as it is in the interest of all parties to drive as much value through the local supply chain as possible. We ensure that as far as possible, those engaged as sub-contractors, skilled or semi-skilled labourers in the construction phase are from the surrounding area - investing in local skills and knowledge to deliver economic efficiencies throughout.
"We also work closely with local, contractors to develop partner-, ships with neighbouring schools and colleges to recruit candidates for our apprenticeship programme. This creates excel-, lent opportunities for school-leavers from the area who may be considering a career in the construction sector to be trained by a highly reputable company that can offer genuine career development opportunities. Ultimately this is a win:win for all."
Osvaldo Mauro Hun, chief executive of Rose Energy said: "These projections are yet further proof that this project will deliver many sound, long-term economic benefits for Glenavy and' the wider area. It is also the only viable solution to the nitrates Directive and to the agri-food sector in the province. "Throughout this process we've consulted widely with the local community, informing them of our plans to ensure they are fully up to date with our intentions for the site. We understand the reticence of local people but we hope this announcement once again demonstrates our commitment to the Glenavy community and also highlights how we can all benefit from an investment of this nature."
julieann.aspence@ulsterstar.co.uk
Ulster Star
16/10/2009