Moira footballers step into the light to score for charity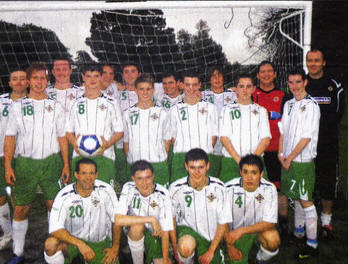 MOIRA'S midnight footballers stepped out of the darkness and into the light recently to help boost the Irish FA's Going for Goal charity appeal.
A group of players from the Logic Café - who take part in a regular Friday night midnight football programme in the village - took on the IFA's Charity XI in Moira Demesne last Wednesday as they stepped out onto a big stage together for the first time, captained by John Spires.
And although moving from indoors meant being exposed to the elements, the rain failed to dampen the spirits of both teams on a memorable occasion for the Moira boys as they came up against some notable names. New IFA chief executive Patrick Nelson put in a guest appearance for the Charity XI - the first time he had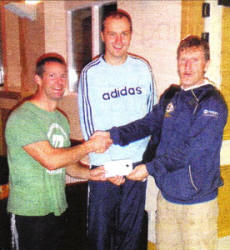 pulled on the Northern Ireland shirt. Running out in the famous green and white wasn't a new experience for the team's most experienced player though, with 27-times capped 1986 World Cup veteran Ian Stewart also turning out.
The event raised a fantastic £235 on the night, with donations still to be received, whilst match referee Paul Berry, who kindly donated his match fee to the charity, was thanked.
"The boys from Logic really enjoyed the night and it was great to raise some money for charity along the way," said Logic Café Development Officer Matt Peach.
"We have our midnight football programme every week and regular tournaments as well and it's a great way to engage with the young people in the community."
The IFA team won the game 50, but the scoreline was largely irrelevant, in a match which was enjoyed by all.
A huge thank you to Stuart McKinley for his coaching advice and generally organising the whole event.
Ulster Star
11/09/2009