Boo! Have a Hallowe'en Hoolie at Lisburn's Island Arts Centre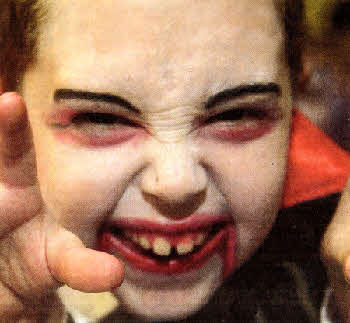 THIS October make your way down to Lisburn's Island Arts Centre for spine-tingling Halloween fun where a feast of atmos-fear-ic activities awaits families of all ages.
Island Arts Centre is delighted to bring you a fun and exciting evening of lights, shadows and a fantastic fireworks display at Castle Gardens, Lisburn on Saturday October 31. Look out for things that go bump in the night and expect a cracking good night at the Halloween Hoolie.
Fireworks display at 8.45pm. Entrance to Castle Gardens is via Castle Street only. Gates open at 8.15pm.
There will also be a Halloween Spooktacular Family Fun Day on Saturday October 31 from 2pm-4pm. Create hats, masks, haunted houses and glow in the dark lanterns inspired by the arts centre's David Hockney's 'Grimms' Fairy Tales' exhibition. Dress in spooky splendour for a chance to win a great loot bag. Simply pop along anytime between 2pm - 4pm but please book in advance, as places are limited. An adult must always accompany children.
It's time for families to get the Fear factor and learn the basics of great face painting in the Frightful Faces Family Workshop on Saturday October 24 from 2pm-4pm.
Find out why parents and kids are buzzing about the Island Arts Centre by logging onto www.islandartscentre.com for loads of cool clubs and weekend activities for Tots to Tweens, free family events and free anytime drop-in zone. There are plenty of shows for children and families as well.
Ballet Ireland will present a magical production of Cinderella and the Lyric Suite on Thursday November 5. Wrapped in the promise of 'happily ever after', this two act treasured fairy-tale has all the necessary stage magic to mesmerize children as well as beautiful choreography and a humorous twist to satisfy devoted ballet fans
Little ones will have the opportunity to experience the sheer delight that only live Children's Theatre can provide with Banyan Theatre's classic puppetry in Twinkle Twinkle (Saturday November 14) and The Elves and the Shoemaker (Saturday December 5) and Monkeyshine Theatre's wonderfully inventive The Bed Maker (Friday November 20 & Saturday November 21).
To plan or book your autumn treats now 1 o g onto www.islandartscentre.corn. Alternatively contact the Island Arts Centre Box Office on 9250 9254 or Arts Information on 9250 9509.
Ulster Star
23/10/2009