`Help for Heroes' charity walk welcomed to Lisburn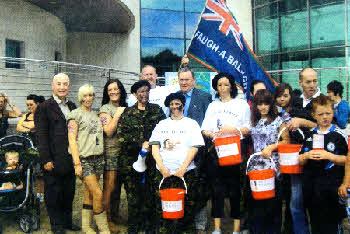 THE Chairman of the Lagan Valley UUP Association Roy Hanna said he was delighted that Belfast Councillor Bob Stoker and his band of helpers recently stopped off at Lisburn during their charity walk 'Help for Heroes'.
Mr Hanna accompanied by local councillors Alderman Ivan Davis and former Mayor Councillor Ronnie Crawford paid tribute to those who were endeavouring to help the armed forces with financial and other support.
Mr Hanna said: "We owe a tremendous debt of gratitude to those on active service in places such as Afghanistan and other theatres of war and we especially think about those that have made the supreme sacrifice. It is therefore vitally important that we do our duty by helping in anyway possible those who are on the harrowing road to recovery and not to forget the families that have lost loved ones. We should ensure that all troops on returning home receive the welcome they richly deserve."
Ulster Star
16/10/2009