Go ahead for £100m Hilden Mill scheme
Minister approves 'urban village' plan for Barbour Threads site
by JULIE ANN SPENCE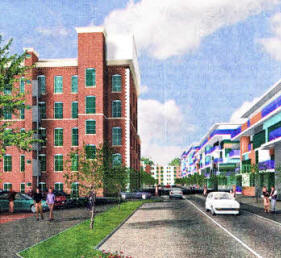 ENVIRONMENT Minister Edwin Poots has given the go-ahead for a £100 million redevelopment of the Barbour Threads site in Hilden, with developers promising the site will become an "urban village" including not only housing and offices, but also cafes, shops, a bar, museum and exhibition space. It has taken just over two years for the decision on the site, with the planning application first being submitted in November 2007. But now the Minister has given it the green light, work can begin in earnest to bring the ambitious project to life. Speaking after a visit to the site, Mr Poots said: "Aitehough it was a sad day when the Barbour Factory was closed down, this ambitious and innovative scheme represents a £100million investment which will provide a real boost for the local economy and generate in the region of 300 jobs.
"This is welcome news for the greater Lisburn area and marks the beginning of a new era for Hilden Mill. The project will see the restoration of listed buildings which have strong historic ties for Lisburn and improved linkages to the River Lagan, giving wider public use with improved amenities."
The regeneration scheme will transform the former textiles factory providing 600 new homes, offices and light industrial units. The plans also include a leisure complex with a museum focusing on the history of the linen industry, to acknowledge the city's association with the industry which made Lisburn renowned throughout the world for decades, while a riverside bar/restaurant, a gym, crèche, café and retail space are also planned, as well as space for use by the local community. The existing, canal and river bridges will be restored or replaced.
Clyde Shanks of Turley Associates, who led the development team for Hilden Developments NI, said: "We are delighted that planning permission has now been secured.
"It moves the exciting vision of transforming the site into a dynamic riverside quarter for this historical area into a phase of implementation and making it happen. The development will put vitality back into the area and provide an excellent modern living and working environment that will reflect the historical importance of the site yet inject an exciting new future."
He added: "The challenge now is to get funding to make the initial phases happen."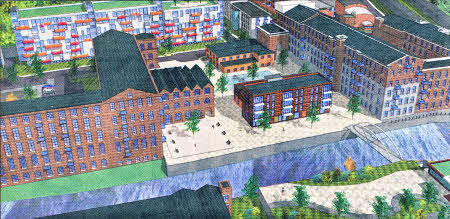 How the development will look when completed
julieann.spence@ulsterstar.co.uk
Ulster Star
18/12/2009