Book gives behind the scenes story of devolution's first year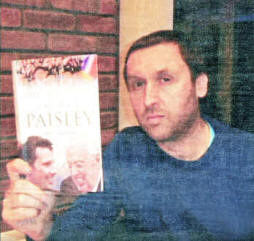 A BOOK about Northern Ireland's most famous political family by a Lisburn-based journalist has hit the bookstands. The Fall of the House of Paisley by David Gordon, who has lived in the Lisburn area for 17 years, examines the first year of devolution after the 2007 power-sharing deal between the DUP and Sinn Fein.
It details the developments that led up to the departure of Ian Paisley as First Minister, as well as the earlier resignation of his son Ian Jnr as a Stormont Minister.
These included problems for Ian Paisley in his Free Presbyterian church, a series of controversies surrounding Ian Jnr, and a surprise defeat for the DUP in the Dromore by-election in Co Down.
The book also details what it says were efforts within the DUP to help ease its ageing leader out the door, allowing deputy Peter Robinson to take over.
David, who worked for the Star's sister papers in Newtownabbey and Lame and is now with the Belfast Telegraph, won the Northern Ireland Journalist of the Year award in March, explained: "One of the main themes of the book is: what went wrong? Things certainly did not go according to plan for the Paisleys. Paisley Snr stood down despite having said he would serve a full term as First Minister.
"The DUP has also had its problems, losing many more votes to Jim Allister's TUVs than had been expected.
"In addition, the experience of devolution and political life since 2007 has hardly been inspiring."
The book argues that the 'ghost of Paisley past' has been stalking his party and Stormont politics.
"When you spend 40 years condemning power sharing, and angrily denouncing those who support it as traitors, it is always going to be difficult to go down that path yourself," David added.
"In my opinion, Paisley Snr failed to explain his about-turn to his heartland."
The Fall of the House of Paisley also examines the shortcomings of Stormont politics and the origins of expenses controversies at the Assembly.
It argues that the current Stormont set-up is biased against the development of new and non-sectarian politics. The Fall of the House of Paisley is published by Gill & Macmillan and is on sale now.
Ulster Star
13/11/2009