Indoor Tractor Show to raise funds for MindWise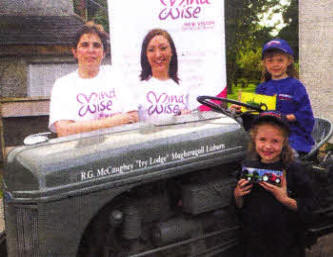 Jackie McCaughey, NI Representative of the Ford & Fordson Association, Victoria Brown, MindWise Volunteer, Chloe Finlay (Back) and Courtney Finlay (Front) get ready for the Ford & Fordson Annual Indoor Tractor Show at Trummery Sales Arena on 16th and 17th October 2009.
JACKIE and Robin McCaughey, the Northern Ireland regional representatives of the Ford and Fordson Association, will be holding their annual Indoor Tractor Show in Moira on 16th and 17th October and this year all profits raised will be donated to help support the work of the local mental health charity, MindWise.
The show runs from 1.00pm to 10.00pm on Friday 16th and from 10.00am to 4.00pm on Saturday 17th. As well as an extensive display of all makes and models of Tractors, there will be a variety of trade stands, guaranteeing something of interest for all the family.
The show will take place at the Trummery Sales Arena in Moira. (If you exit from the M1 at the Moira Roundabout, take the road signposted for Lisburn then the 1st right turn and then right again at a laneway just past the Tile Shop.)
Event Organiser Jackie McCaughey, who works for MindWise, is urging local people to come along and enjoy a good day out whilst helping to raise funds for a worthwhile cause.
She said: "Mental illness can affect anyone, at any one time 1 in 4 people will be affected by mental illness, and like a physical illness it can strike anyone at anytime. MindWise is there not only to support anyone who does develop an illness but also to educate and inform the public as to how they can protect their own mental health. As a newly formed independent charity, this year more than ever MindWise needs the generous support of local people to be able to continue offering these services". Anyone wishing to enter a tractor into the show can do so by contacting either Jackie or Robin McCaughey on 92 622357 (after 6.00pm) or alternatively they can contact Jackie on 07763 346908 or Robin on 07763 183411.
The organisers would like to thank Mr William Wilson from R.A. Noble Auctioneers for kindly donating the use of the premises free of charge to host the event.
For further information about the services MindWise offers, or to find out how you can support their work, go to www.mindwisenv.org or you can contact the MindWise Head Office on 9040 2323.
Ulster Star
18/09/2009