`Outstanding' Irene named Childminder of the Year
A LISBURN childminder has been named the 2009 Cow & Gate Childminder of the Year.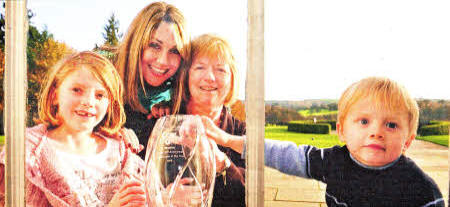 The mum of three grown up children was awarded the title at the finals held in Malone House earlier this week after being judged as the finalist who had attained the highest standard in her profession and deserved the recognition. She received a Tyrone crystal trophy and a cheque for £500.
Speaking after clinching the title Irene said she was shocked but "absolutely delighted". She intends to treat herself to a bracelet with her prize money - something she can look at and remember her achievement.
Irene gave up her bank job and started childminding when her own family were small in order to be at home with them and also have a profession. She was nominated for the award by Joyce Cleland of Lisburn whose three children Dawson (9), Abi (6) and Jack (2) are looked after by Irene while Joyce is at work. She also looks after another little girl, Anna Sullivan aged 4. Joyce explained that she nominated Irene because she is an "outstanding childminder who puts so much effort, love and care into her job".
She said: "She provides an organised, secure and nurturing environment for my children where they get the chance to go on trips, play games and have fun. I love the texts she sends me with photos of a play-dough cake or someone on the swings. And she hasn't a day off sick in almost 10 years."
Irene takes her job very seriously and would advise anyone thinking of going into the profession to take it seriously too.
"It is a huge commitment", she says, "and I would advise anyone thinking of taking up childminding to think about the effect it might have on their own family. I would also advise them to speak to other childminders to get a good idea of what it all entails. And, of course, to speak to the people at the Northern Ireland Childminding Association."
The competition was organised by Cow & Gate and the Northern Ireland Childminding Association (NICMA).
Ulster Star
27/11/2009