Childminder Irene is nominated for top award
Local woman in grand final in Belfast on Monday
by CIARA GRAZIER$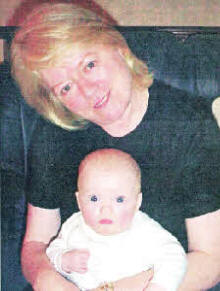 LISBURN childminder Irene Leonard has been selected by baby nutrition experts Cow & Gate, and the Northern Ireland Childminding Association (NICMA) to contest the finals of this year's Childminder of the year award.
The finals will take place on Monday (November 23) at Malone House in Belfast, when the chosen finalists compete for the title and a Tyrone crystal trophy with a cheque for £500.
Irene was nominated by Joyce Cleland from Lisburn whose three children, Dawson (9), Abi (6) and Jack (2) are taken care of by Irene while Joyce is at work.
"I nominated Irene because she is an outstanding childminder who puts so much effort, love and care into her job. She provides an organised, secure and nurturing environment for my children where they get the chance to go on trips, play games and have fun' Joyce said.
By giving up her bank job, Irene started childminding when her own family were small in order to be at home with them and also have a profession. She and her husband David have three children of their own who are now grown up. She has been a professional childminder for 25 years - exactly the same time as NICMA has been in existence.
"I was completely shocked when I was told that I had been selected as a finalist," she said. "I don't know how Joyce found out about the award but I am very pleased that she considers me good enough to be nominated."
Irene takes her job very seriously and would advise anyone thinking of going into the profession to take it seriously too.
Along with her keep fit regime Irene begins her day at 6:15 in the gym; gets home about 7:20 and prepares for her charges arriving at about 8am. As well as her interest in keeping fit she works hard for the Girls' Brigade in her local church.
The number one aim for Irene is that her little charges are happy to come to her, enjoy their time and feel safe with her and she aims to develop confident children. "Childminding is a demanding job. It is very hard work,' she added, 'and it can be solitary. So I make an effort to meet other childminders through the Lisburn group for which I am secretary."
Ulster Star
20/11/2009