Altitude sickness can't spoil Kilimanjaro climb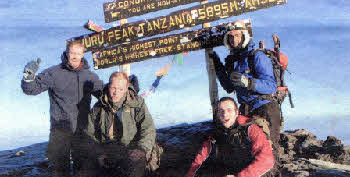 A GROUP of four local men have reached the top of Africa's highest mountain - despite one of them developing such a bad case of altitude sickness it seemed likely he would not be able to make it.
The idea to climb Kilimanjaro in Tanzania was made by the four friends - Lisburn Rugby Club player Neil Robinson, Steven Morrison a farmer from Hillsborough, Craig Scott an accountant from Dromore and Robert Dunlop, an engineer from south Belfast - when they met up at a wedding.
It was something that we had talked about and we discussed it one day at a wedding and just decided why not," said Neil.
They contacted Guides and Porter, a Tanzanian company, who provided them with equipment and support staff for the trip which travelled via the Machame route, summiting Uhuru peak (5,895m) on top of the Kibo Crater.
Neil was fully prepared physically, training with the Rugby Club, running three times a week with the Lisburn Athletic Club and going to the gym. But nothing he could do would have prepared him for altitude sickness. It was the second day of the climb that Neil realised something was wrong. He started losing his co-ordination, felt ill and suffered a throbbing head.
It was the strangest feeling ," he recalled. "Everyone else had it to some degree but I was by far the worst. I totally lost all co-ordination, I was tripping over rocks, I felt ill and I couldn't eat and I would consider myself a fairly healthy and fit person." On the last day of the climb the party left for their eight hour ascent at 11.30pm travelling at temperatures as low as -15 degrees centigrade.
"I remember very little of getting to the top," Neil said. "Two of the guides could see I was struggling. One took my rucksack while two others walked either side of me."
Despite feeling ill, Neil along with the other three exhausted but elated climbers, reached the top - a thrilling moment for them all.
"To tell you the truth I remember very little of getting to the top, I felt that ill," Neil said.
Neil is now happy to give presentations about his experiences to church and similar groups, to give some idea of the expedition.
"What happened to me would not put me off again," he said. "It was such an amazing experience it was well worth it. I am glad I did it. We were told of the sickness but I didn't think I would get as bad.
"I wouldn't have minded being warned about other things too. At one stage our water froze and we were without water for a time."
Ulster Star
16/10/2009