Ann honoured for 20 years of service to Knockmore community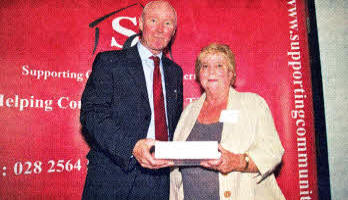 THE chairperson of Knockmore Community Association, Ann Watson, has received a merit Award for her long and distinguished service to the community at a recent conference organised by the Housing Executive's Housing Community Network, and Supporting Communities Northern Ireland (SCNI).
Ann has given 20 years service to the Knockmore community, helping the Community Association develop from small beginnings to a group that provides support to people living in an area of over 1100 homes.
Sarah Jane Patterson, the Development Worker for the Knockmore Community Association, said:
"Over the past 20 years Ann has worked tirelessly to attract funding for a range of initiatives and projects on such topics as IT, drugs awareness, lifesaving, mental health, cultural diversity and children's cookery.
"Ann also finds time to organise parties for children and older people for which she does all the cooking! And if that wasn't enough, she also cooks breakfast and lunch every week for the Senior Citizens' Club.
"Ann also takes part in a number of inter-agency and housing meetings to help deliver the strategy for area."
Jill England, the Housing Executive's Manager in Lisburn, works alongside Ann in dealing with housing issues and added her congratulations on the award.
"I am delighted that Ann's work for her local community has been recognised in this way" she said.
"This well-deserved award demonstrates not only her commitment to the people of Knockmore but also her work with the Housing Executive and other agencies to ensure that Knockmore continues to be a safe and enjoyable place for people to live."
The final word goes to Ann herself:
"I was surprised and delighted to receive this award, and for my work in Knockmore to be recognised in this way.
"Of course there are many other people who contribute to community work in Knockmore and it is through everyone's efforts that Knockmore is a vibrant, friendly and welcoming area of Lisburn."
Ulster Star
06/11/2009