Lisburn soldier William prepares to spearhead military role
by JULIE ANN SPENCE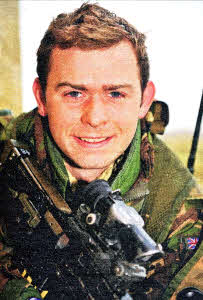 A SOLDIER from Lisburn has been training for a role which could see him deployed anywhere in the world over the next four months.
Lance Corporal William Hull, 23, is currently serving with the 1st Battalion the Royal Irish Regiment which has just taken on the responsibility of becoming the 'Spearhead Land Element'. The SLE is on 24-hours notice to move to any area of the world where British military assistance is required.
In preparation for the role, which could see them dealing with anything from natural disaster to civil unrest, William joined the 900 strong Royal Irish Battlegroup as they descended on Salisbury Plain for a three-week exercise designed to test the soldiers' resilience and capability in a range of different scenarios.
Through driving rain, the men and women moved across the Plain to secure towns and villages, freeing hostages, dealing with detainees and both civilian and military casualties along the way. In a spectacular night time clash with enemy forces, flares hurled through the sky as the troops stormed a village deep in the heart of Salisbury Plain.
The battlegroup organised and carried out a series of helicopter drops across the training area, delivering humanitarian aid to the local population, as well as protecting convoys bringing supplies to remote areas. The attached Royal Engineer elements were tested in their ability to restore key infrastructure as they undertook the rebuilding of a bridge on the Plain.
LCpI Hull, a former Lisnagarvey High School pupil, said: "When I was at school we did a 'Look at Life' with the Army. I really enjoyed and thought I'd give it a crack and now here I am.
'I did a tour of Iraq in 2005 but I was a Ranger then and was mainly out on the ground doing top cover in a Snatch. Now I've been promoted so this is the first exercise that I have been Section Second in Command for. I have lots more decisions to make than I used to. It's really enjoyable.
The SLE role will see us possibly being called on at any time. You don't know where you are going to get called to and I think that's quite a good thing. I'm looking forward to it." Having spent enough time under a poncho in sub zero temperatures, William returned home to Lisburn for Christmas, which he spent with his mum, dad and three sisters.
julieann.spence@ulsterstar.co.uk
Ulster Star
25/12/2009