`Cancer charity was like family when we needed them most'
WHY LISBURN MAN IS BACKING 'LIGHTS TO REMEMBER' APPEAL
by MARY MAGEE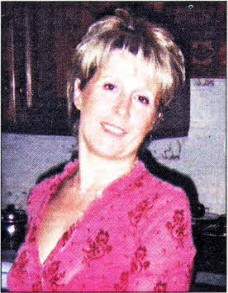 THE husband of Lisburn woman Denise Taylor who passed away two years ago on December 2 after a battle with cancer, has described the Marie Curie cancer charity as being like family.
That's one of the reasons Tom Taylor is supporting Marie Curie Cancer Care's 2009 'Lights to Remember' appeal which celebrates the life and memory of loved ones in the community.
The charity is inviting people from across the province to sponsor a festive light that will shine brightly in honour of the life of family and friends who have died from a terminal illness.
Tom, the owner of Taylors Newsagents in Sloan Street, says he cannot praise Marie Curie highly enough for the love and support he was given during the troubled time which he described as 'truly remarkable.'
His wife Denise (44), a mother-of-three whom he describes as someone with a bubbly personality and a love for life, was first diagnosed with stomach cancer in July 2006.
Denise, who helped run the business along with her sons, complained of sharp chest pains and went to visit her GP.
"She was running about helping with the business and she was always on the go," Tom said. "She would be working up to 15 hours a day and never complained about her health until she began talking about these pains in her chest."
The doctor booked an appointment for her to go to the Lagan Valley. She left the shop and took a change of clothes expecting to return within half an hour.
Instead she was told she had cancer and drove to her mother's alone. She rang her husband and asked him to come and see her and broke the devastating news to him.
She underwent chemotherapy and had a pick line placed as well as having her stomach. The operation took place at the City Hospital. At first doctors believed it was not as bad as what they first suspected. She had more chemotherapy after the operation and it seemed that in time she would recover and everything would be allright .
But as time went on it became obvious to friends and relatives that Denise was not recovering as quickly as first hoped.
A friend, who is a nurse, expressed her concern but when Denise went to hospital for a checkup in August 2007 she was given the all clear following an ultra scan.
Two weeks later, however, as her health deteriorated further she went back to hospital and following another operation their worst fears were confirmed. The cancer had spread and doctors told her husband it was only a matter of time.
The last months of Denise's life were spent at the Marie Curie Cancer Centre, a place that Denise and Tom called their home.
"This is where Denise wanted to be," said Tom. "I am not just saying this because she is my wife but Denise was something. She lived for the moment and was very bubbly. She was the life and soul of the party and she was someone everyone wanted to be. Denise decided herself to spend the last months at the hospice as she felt that it would be easier on our sons. While I spent time with Denise our sons, Thomas, 26, Mark, 25, and Graham, 21, who were a real credit to their mother, worked hard at the family business when I could not.
"Over those three months I built a real relationship at the hospice. All the staff there were just a family to me and Denise. I will never ever forget what they did for me. I still go down to Marie Curie Centre - some family members cannot as it brings back to many bad memories but I still go back.
"I benefited greatly from their counselling service when Denise died. I still go back and give the staff flowers or drop in sweets and always support their campaigns."
Denise passed away just weeks before Christmas on December 2, 2007.
"There was a big hole in our family after Denise passed away," he said "During her illness she would have always said 'One Day at a Time', that was her motto and we placed it on the gravestone."
A 'Lights to Remember' Christmas carol service will be held this Sunday, December 6 at Fisherwick Presbyterian Church at the bottom of the Malone Road in Belfast at 3.00pm.
For those who can't attend the carol service a light can be sponsored on the Christmas tree at the hospice in East Belfast. This light will not only shine in memory of a husband, mother, relative or friend but the money will go directly to funding Marie Curie Cancer Care's work to support terminally ill people across Northern Ireland by providing care for them and their families either in their own homes or at the hospice.
To attend the Belfast 'Lights to Remember' service or make a donation to sponsor a light on the Belfast hospice tree, simply call Lesley Wright, Community Fundraising Manager on 9088 2046.
You can also sponsor a light and make a dedication to a loved one online, by visiting the Marie Curie Cancer Care virtual 'Lights t o Remember' www.mariecurie.org.uk/lights2remember.
Ulster Star
04/12/2009