Lisburn postie's hobby helps deliver new stamp collection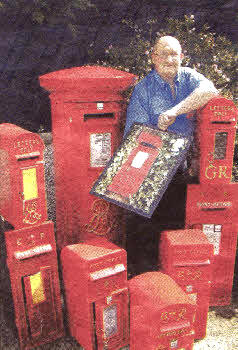 LISBURN postman Gary Bowman has teamed up with Royal Mail to help launch a new stamp sheet featuring four iconic wall mounted boxes together with an image .of the earliest known surviving posting slot. Starting life as mere slots outside post offices, now the pillar-box's little cousin, the post-box, is being celebrated.
Gary, an avid post-box collector, knows everything there is to know about post-boxes. His collection of over 70 boxes ranges from pillar to wall-box and covers the reigns of all sovereigns from Queen Victoria to Queen Elizabeth II.
Gary commented: "It is a rather unusual hobby and takes up quite a lot of space but I find the boxes fascinating.
"A post-box or letter-box is the overall title for any kind of posting facility whether it's standing proud on the pavement (pillar-box), a smaller freestanding version (pedestal-box), on, or in, a wall (wall-box), or on a pole (lamp-box).
"In my collection I have all types and sizes of boxes which I have restored to their former glory. Each box is complete with its original plate and each one has its own story to tell."
Barbara Roulston, Head of External Relations at the Royal Mail Group said: "Post-boxes have a wonderful character all of their own and have changed little in design over the past 200 years.
They have become part of everyday life, and indeed a lifeline for many people in remote rural areas, as every home across the country is within easy reach of a post-box.
"This colourful Miniature Sheet has been beautifully designed and I am sure everyone will have no hesitation in recognising these iconic images."
The stamps which will be celebrated in the new Miniature Sheet from Royal Mail
Ulster Star
02/10/2009