Little Tom inspires a big response
Special event helps raise funds for Cancer Fund for children
by JENNY MONROE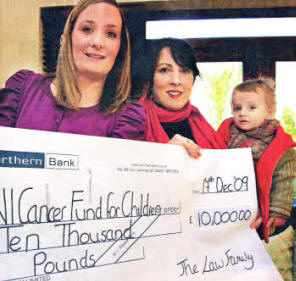 ALMOST £15,000 has been raised from the proceeds of a charity dinner dance organised by the parents of a sick baby boy from Hillsborough.
Cathy and Richard Law's beautiful son Tom was born 16 months ago with a rare vascular tumour and associated bleeding disorder. From the age of three weeks he has been undergoing chemotherapy and has survived two major operations at Great Ormond Street Hospital. For fear of infection Tom only leaves his house to go for his hospital treatments and his mother has left her teaching job to care for him full time at home.
Despite the pressure of caring for a sick child, Cathy decided she wanted to raise money for the Northern Ireland Cancer Fund for Children (N.I.C.F.C) and the Haematology Ward at the Royal Victoria Hospital for Sick Children, both of which have had an enormous impact on the family's life. N.I.C.EC provides respite for carers and offers valuable support.
Guests at the dinner dance kindly bought raffle tickets and bid generously for auction items which were donated from many local businesses. Money was also raised from the Greyabbey 'Mums and Tots' who did a sponsored bounce, the Ulster Young Farmers Association, and a close friend Lornette McAllister requested donations from Abercorn Primary School and raised over £700 when she asked for donations instead of presents for her 40th birthday.
Speaking about the money raised Cathy said she was absolutely delighted that so many people supported the event.
She commented; "I would like to thank all the businesses who donated prizes and everyone who came along on the night. Those who donated money but couldn't come along must be thanked too.
"It means so much to me and my family as the money will be going to two worthy organisations that have helped us through the past 16 months.
"We are still trying to find a cure for Tom and anything we can do to help the hospital and the charity is worth the effort.
"People have been so kind and we really appreciate all of the support we have been given. Thanks again to all our family and friends who continue to support us."
The family will be returning to Great Ormond Street in January for further treatment for Tom.
Ulster Star
25/12/2009