Inner Wheel Club hosts charity events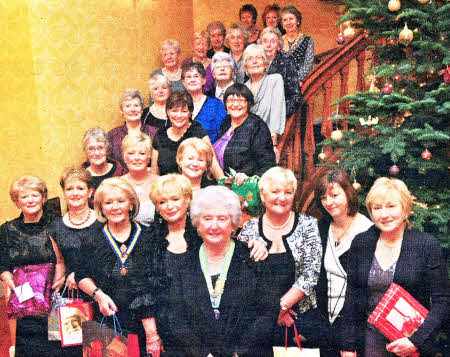 Lisburn Inner Wheel who have provided presents and hampers for elderly people in the Lisburn area. US5009-401PM Pic by Paul Murphy
LISBURN Inner Wheel Club organised two events during November in support of Congenital Heart Disease. The venue for the first was at the home of club member Jayne Johnston where Shona Donaldson displayed a stunning collection of her personally designed Silver Jewellery; an irresistible must have for many Inner Wheel members.
In addition there was a delightful selection of Homemade Chutneys, Relishes, Dressings and Mustards by Mandy Kernohan of Akushla, again they keenly sought after. The evening included a very appetising supper with wine and soft drinks.
The second event was held at the extremely prestigious Grand Hall at Stormont Buildings, where all who attended were entertained by Laganvale (Metal Technology) Band, courtesy of the band's main sponsor Mr TB McKnight.
The venue at Stormont was organised by Lagan Valley MLA Trevor Lunn.
The evening included wine and supper, there was also an Auction for an oil painting by local artist Colin Fleck, in addition top local Golfer Darren Clarke donated a personally signed Golf Club, Visor and Shirt.
District 16 Inner Wheel Chairman Norma Coggins thanked everyone for their efforts in organising such a successful evening.
---
Charity shoe boxes make a real difference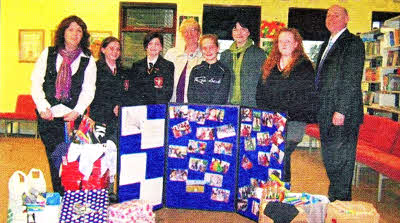 Lisnagarvey HS helping with the Romanian shoe box appeal
LISBURN Cathedral and Chosen NI has thanked all those who donated shoe boxes and items to make a difference in Romania this Christmas.
This year 1006 shoe boxes have been sent via Blythswood charity. The shoe boxes will be distributed to — the Potters house orphanage, an orphanage for disabled children, a baby hospital, an elderly home, boys prison, and four local villages.
Oana Onicure runs the Potters House orphanage in Timisora, Romania and will organise the distribution of the shoe boxes and gifts. Oana is supported by Jill McNeely, a Lisburn girl who is on her second year of placement.
Thanks go to local schools Lisnagarvey High School, Laurelhill Community College, Little Rays Nursery, Scoil na Fuiseofige Twinbrook, Hunterhouse College, Holy Trinity Nursery, Central primary school, Harmony Hill , Largymore, Drumglass High School, Tonagh Primary, Knockmore Primary, Old Warren and Brownlee Primary School.
The organisers also thanked local businesses Reids, Speers, Collar and Tie, Woodsides, The Baby Shop, Pond Park Pharmacy, Shop for you Pond Park and Pro Star Sports.
Local people and churches were also thanked including Peter and Irene McGowan, Elmwood Presbyterian church, Second Dromara Presbyterian and Moira Girls Brigade for joining the appeal as well as all at Lisburn Cathedral and to groups within — Scouts, Cameo club, Fusion, Mums and Toddlers, Mothers Union, Sunday School, Kidzone, Worship team, Guides, Nimble Fingers, Home groups. Finally special thanks to Hillhall church the Lighthouse for the use of their bungalow.
The shoe boxes will be distributed in Romania between December 18-22. Two local girls Janine Swain and Deborah Scott are flying out to help.
Ulster Star
25/12/2009