Local Territorials are honoured during Royal visit
| | |
| --- | --- |
| | |
| The day was very much about celebrating with family for Sergeant David Brookes from Lisburn, pictured with wife Marie and their children, Sarah (191 and Alex (17). He says, "I was very aware when I was away that some of the lads working alongside me were around the same age as my own children so it was good to be able to give them a bit of emotional support and encouragement on occasion. Their parents should be very proud of them for although they are young, the lads were doing men's jobs and they showed great maturity and ability." | Private Jonathan Burrows was just as happy to be back amongst his own family circle in Lisburn. Pictured with mum, Martha; dad, Sidney, and brother, Alastair, Jonathan described his experiences in Afghanistan as 'an amazing time and something I can always be proud of'. |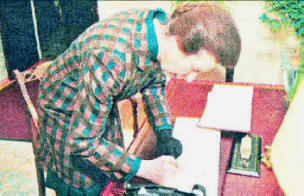 THE service in Afghanistan of Territorial Army soldiers from 152 (Ulster) Transport Regiment RLC (Volunteers) has been honoured at a ceremony at Hillsborough Castle in the presence of The Princess Royal, the Colonel in Chief of the Royal Logistic Corps.
Amongst those celebrating a safe homecoming in Royal style were Sergeant David Brookes, Private Jonathan Burrows, Corporal David Holdsworth, Private Alex Kennedy, all from Lisburn and Sergeant George Patience, from Saintfield.
The Territorials served in Helmand Province in Northern Afghanistan, working alongside their regular Army counterparts as an integral part of 'Operation Herrick 10' where their role was to 'keep the military show on the road'.
Deployed in the most hostile parts of Helmand, the Territorials from '152' as their home unit is known, helped to achieve some hugely notable milestones, during which they travelled some 12,000 kilometres by road at a time when every outing was highly dangerous.
| | |
| --- | --- |
| | |
| There was double cause for celebration at Hillsborough Castle as Sergeant George Patience from Saintfield received his operational medal .... making mum's birthday extra special! Irene Patience described the day as 'something to remember for the rest of our lives.' | Sergeant Patience with his wife, Dawn, and daughters: Amy (8), Zoe (4) and Sophie (2). Unimpressed by all the excitement little Sophie managed to sleep in mum's arms .... but woke up in time to smile for the Royal visitor! |
The visit by The Princess Royal to present operational campaign and service medals set the seal on homecoming celebrations.
The Commanding Officer of the unit, Lieutenant Colonel Adrian Thurgood, said: "It is a great honour for the troops to receive their medals from Her Royal Highness. These are 'ordinary' people who have done extraordinary deeds in the service of their country and the people of Afghanistan. As a unit we welcome their safe return and look forward to deploying further troops to enable the vital work in Afghanistan to continue."
Ulster Star
20/11/2009