Maghaberry WI celebrates first 60 years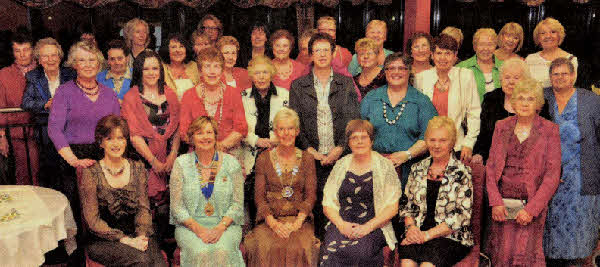 Maghaberry Women's Institute celebrating their 60th Anniversary US4209-403PM Pic by Paul Murphy
MAGHABERRY Women's Institute WI is celebrating its 60th anniversary and to mark the occasion a special dinner was held in Dunmurry Golf Club.
Members were delighted to have Federation Chairman Mrs Ethel Patterson attend along with General Secretary, Mrs Irene Sproule, Lisnagarvey Area Executive member, Mrs Helen Dunlop and other invited guests and friends.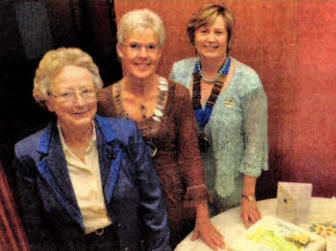 Maghaberry WI's one remaining founding member, Mrs Mary Lewis, was also at the dinner. Mrs Lewis is still an active member of the WI and helped with the table flower arrangements. Her daughter is a member of the present committee and her granddaughter Miss Bobby Culbert entertained the group at the end of the dinner with her beautiful singing.
President Mrs Ann Henning also welcomed current members, past members who had come along for the evening, invited guests and new members who had joined in September.
Everyone enjoyed an excellent meal and all the ladies received a beautiful handmade beaded necklace.
This past year has been busy as ever with many interesting topics being discussed at meetings and outings to Armagh and the Tudor Cinema in Omagh.
As part of the 60th celebrations members enjoyed an evening as the guests of Mr Ronnie Crawford, then Mayor of Lisburn, in the Mayor's parlour. In June a very successful Open Night was arranged to show the local community what the WI has to offer, and several members took part in the Maghaberry Community Fun Run. It is planned that the year's celebrations will finish with a party night in December with other WI members from the Lisnagarvey Area.
Maghaberry is a fun loving, friendly WI with a lot of people who have been members for many years but it also has a high proportion of younger members.
Their next meeting is in Maghaberry Primary School on Thursday, November 12 at 8pm. Ladies of any age who feel that the friendship and sense of community on offer is what they need, are warmly invited to go along and join in.
Ulster Star
16/10/2009