Margaret honoured for 50 years living with diabetes
DUNMURRY COUNCILLOR RECEIVES ALAN NABARRO MEDAL FROM THE BDA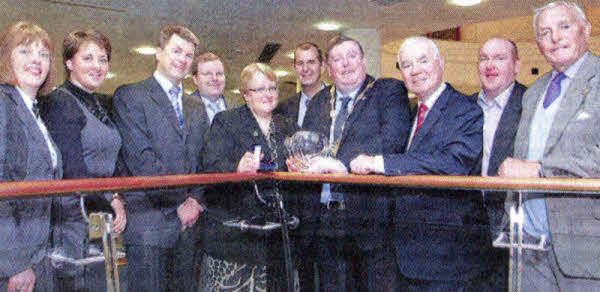 Councillor Margaret Tolerton pictured with specialists from Lisburn Health Centre and Council colleagues after being presented with a Nabarro award (for 50 years of life with insulin) during a ceremony at Lisburn Civic Centre. US4109-520cd
A LOCAL councillor who has lived with diabetes for the past 50 years received a prestigious award on Wednesday evening. Margaret Tolerton (57), a mother-of-two who celebrates her birthday today (Friday), has been given the Alan Nabarro Medal by the British Diabetic Association in recognition of living with the condition for half a century.
The Dunmurry Cross councillor was first diagnosed with type-one diabetes when she was just seven years old.
Margaret, who lived in Drumbo, remembers little of how her condition came to light. Her symptoms were recognised by her mother who realised the youngster had an incredible thirst and took her to the GP. She was sent to the Royal Victoria Hospital where she was diagnosed.
Her father had to administer daily injections and she attended monthly diabetic clinics.
"My father was a farmer and he had the job of giving me my injections," remembers Margaret. "The doctor gave him an orange to practise on and he said at least the orange didn't squeal.
"Looking back, the injections seem to have been very primitive: a heavy glass syringe and a a needle, each having to be sterilised and boiled once a week. When testing my blood it was done by placing a needle underneath my thumb nail to my knuckle which was really painful. We have progressed so far."
Diabetes was rare when Margaret was growing up she was the only pupil at Drumbo Primary and then Knockbreda High to suffer from the condition. Though she managed her condition well, at the age of 14 she had a small setback when she went into a diabetic coma.
Despite her illness Margaret - who worked in the civil service for 30 years - represented the Farmers of Ulster in Canada and became a proud mother of two Ian (22) and Helen (26). And she refuses to let diabetes get in her way. In 2007 she became a councillor for Dunmurry Cross after the sudden death of Stephen Moore.
Advances in medicine now allow Margaret to carry a kit which includes all she needs to control her condition.
"It's just a way of life and I do not make it the focus of my whole life," she said. Margaret took part in the Dose Adjustment For Normal Eating programme which is run at diabetic clinics, something which she believes has transformed her life. The programme has allowed her much more freedom to eat what she wants and when.
"I have been very fortunate that I had very supportive parents and a very supportive husband (who died in 2005) and of course my diabetic nurse Hilda, and for that I am very thankful," said Margaret
"I just think things could have been worse. I feel that in the next 25 years a cure will be found because there have been so many advances throughout the years with diabetes.
"There are few restrictions with the condition now, but one thing that really annoys me is that you have to re-apply for your driving licence every three years. I suppose it is done for your own good but it does get to me.
"Diabetes is not a death sentence, you are not disabled and you just have to get on with your life."
Ulster Star
23/10/2009