Lisburn hosts Mary Peters Trust awards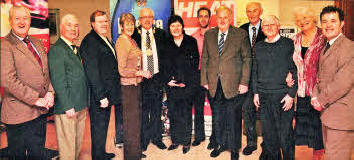 TOP athletes from across Northern Ireland have joined representatives from the Confederation of British Sport, the Mary Peters Trust, and Lisburn City Council at a special reception and awards' evening at Lagan Valley Island.
Dame Mary, on behalf of the Mary Peters Trust which helps support young athletes from across the Province, presented a number of special awards for outstanding sporting achievement.
Award winners included Leona and Lisa Maguire, who were recognised for their golfing success; Madeline Perry who is ranked as one of the top 10 squash players in the world and Mickey Harte for his contribution to Gaelic football.
Lisburn Mayor, Councillor Allan Ewart said it was a privilege to welcome the Confederation of British Sport, which represents sporting bodies across the UK's regions including the Northern Ireland's Sports Forum and the British Olympic Association, to the City and to play host to the Mary Peters Trust Awards' Evening.
"It is fitting then that the Mary Peters Trust used this occasion to honour local Sporting Achievements," said the Mayor.
Also present were Dr. Janet Gray, and key representatives from Sport Lisburn and Lisburn's three training facilities for the 2012 Olympic and Paralympic Games.
Councillor David Archer, Chairman of the Council's Leisure Services Committee, said local sport was thriving in the Lisburn area and paid tribute to the local clubs and groups for their achievements.
"Through the continued commitment of bodies like Sport Lisburn and the support of charities like the Mary Peters Trust, local sport has never been in a better place," said Mr Archer.
"With 2012 fast approaching we are all delighted that the superb facilities at the National Badminton Centre, Lisnagarvey Hockey Club and Saiteo National Gymnastics Centre have been recognised as training venues for the Olympic and Paralympic Games and hope that Northern Ireland sport continues to grow from strength to strength, nurturing the next generation of Olympians" said Mr Archer.
Ken Nixon, Chairman of the Northern Ireland Sports Forum said, " As a member of the Confederation of British Sport, it is the Northern Ireland Sports Forum's job to make sure we recognize, not only the sporting stars of today and the future, but our sporting volunteers, without whom sport at all levels across the province and indeed in the rest of the UK would struggle to survive".
Ulster Star
25/12/2009