Christmas message from the Mayor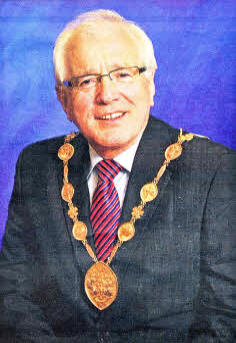 LISBURN'S Mayor, Councillor Allan Ewart has reflected over the highs and lows of the city over the past year and is wishing everyone in the city a very happy Christmas.
"Christmas is a very special time for many of us," said Mr Ewart. The frantic buying of Christmas presents, preparing of food, decorating the home and the endless entertaining can seem like a merry go round from the beginning of December right through to the early days of the New Year.
"Throughout the festive frenzy it is easy to forget the reasons why we celebrate Christmas, as the angel said, "Fear not for behold I bring you good tidings of great joy which shall be to all people, for unto you is born this day in the City of David a Saviour, which is Christ the Lord." Even for those in our communities with no faith, or other faiths, the ethos of Christmas is still incredibly powerful.
"The idea of sharing, of thinking of others and providing kindness and support where it is needed most has never before been so important than in these modern times.
"Christmas is undoubtedly a wonderful time for many, with families coming together, but it can also be a desperately difficult period in the year for others and I would ask that we all show real Christmas spirit by taking the time to help those who are lonely, ill, bereaved or just in need of some extra support this Christmastime. There is no better Christmas present than this. "Christmas comes as the final chapter of 2009 and as I look back on the year it is with a mixture of many emotions. This year brought with it both highs and lows for our City.
"Our 400th Anniversary Celebrations provided an opportunity for many firsts for Lisburn, not least the Proms in the Park at Hillsborough Castle. The City was also honoured to welcome The Duke of York to Lagan Valley Island in recognition of this historic milestone. "The Council was delighted to bestow the Freedom of the City on the inspirational Dr Janet Gray.
The City also came together during the year to honour two 19th Century local Victoria Cross Heroes, Corporal William James Lendrim and Sergeant Samuel Hill whose inscription can now be found on the Nicholson War Memorial.
"Their memorial is a fitting tribute and powerful reminder of the dangers faced and the bravery of our troops, both past and present who are today fighting overseas. We pray for their swift return.
"I am acutely aware of the effect that the global economic slump has had on many businesses and individuals within our City and pledge the Council's commitment to doing everything it can to assist in the recovery.
"The further delays in the planning process at Sprucefield Park only exacerbates these problems and I hope that a way forward can be reached in 2010.
"Our City residents continue to be resilient and I am continually amazed and humbled by the dedication of so many in Lisburn. Volunteers, community groups, schools, our older citizens and our young people often receive no formal recognition for their work, which proves invaluable for many.
"I would like to take this opportunity to thank all those who work within their communities towards making lives better.
"As the door closes on 2009 I have no doubt 2010 will bring with it many challenges and opportunities for us all and I have every confidence our City will rise to the occasion with gusto.
"The true meaning of Christmas is incredibly special and I hope that the message of goodwill and peace continues throughout 2010 and beyond.
"I wish you all a very happy Christmas and Peaceful New Year."
Ulster Star
25/12/2009