Pizza 'dough' for Mayor's charity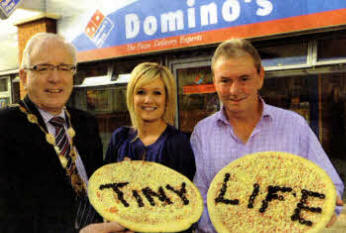 WITH fundraising for the Mayor's Charity, Tiny Life, in full swing, Councillor Allan Ewart, Mayor of Lisburn City, was delighted to join forces with Mr. Adrian Caldwell, owner of the popular Domino's Pizza outlet in Lisburn.
Mr Caldwell, of Domino's Pizza, based in Longstone Street, Lisburn, said: "From October 12-25 Domino's will donate 25 pence from every order placed to the Mayor's Charity. I hope our patrons will choose to order their usual pizzas and that business is good because every pizza sold delivers 25 pence to this very emotive charity."
The Mayor's Office is involved in several fundraising pursuits and is very pleased to have enlisted support from Domino's pizza.
"Every penny we can raise is precious to Tiny Life," said the Mayor. I am very pleased to be working with Domino's on this initiative and of course I hope they are very busy and Tiny Life gets as much money as possible."
Adrian Caldwell, franchisee of the Domino's store in Lisburn, said: "We know that times are tough and just wanted to give a little something back to our loyal pizza lovers who've continued to enjoy our piping hot, freshly made pizzas this year. We are also delighted to be able to use this opportunity to raise funds for such a worthy local charity as Tiny Life." The Mayor's Charity work carried out by the Mayor's Office involves no administrative charges or overhead costs, meaning all funds raised go directly to the charity itself.
The Tiny Life organisation is Northern Ireland's premature and vulnerable baby charity, dedicated to reducing premature births, disability, illness and death in babies born in the Province. The charity work is far-reaching, involving medical research and the all-important practical and emotional support to parents who come into contact with Tiny Life.
The Mayor concluded: "As a father, and now grandfather just recently, seeing and holding a new-born baby brings it home to me just how important the work of Tiny Life is. I hope Mr Caldwell is busy over the 12th to 25th October, as my charity will benefit from each order placed with Domino's."
If any organisations or persons would like to get involved in the work of the Mayor's Charity endeavours, please telephone the Mayors Secretary on 9250 9250.
Ulster Star
09/10/2009